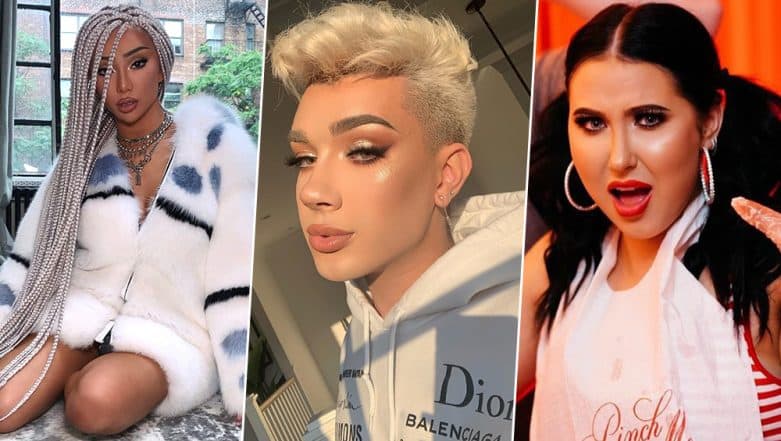 Nikita Dragun did an oopsie and didn't care! Ace family did something horrible and acted entitled, once again. And everybody's favourite "celebrity" is back in the news. Sister James Charles! But if you're rooting for Jaclyn Hill in the "James vs Jaclyn, who has most drama" war, no worries. Jaclyn Hill managed to piss people off again. Girl, just apologise for your hazardous lipsticks, issue refunds and go. She's shoving things down people's throats, again. However, Jaclyn may have moved on from Morphe to some other brand now. Tea Tuesday: Justin Bieber Confirms He Was an A$$ in Relationships, and Kendell Jenner Gets Sued!
James Charles has been in several plagiarism scandals and this time, for a change, looks like someone was "inspired" by his work. While sister James was busy suing, BFF Nikita Dragun was busy with cultural appropriation. Let's get to spilling some tea, shall we?
James Charles Suing Wet n Wild
Wet n Wild debuted their new 40 pan eyeshadow palette at RuPaul's Drag Con. The palette might be the biggest palette by wet n wild so far but looks a little off..? James Charles claims the palette looked identical to his palette with morphe.
James Accusing Wet n Wild of Copying
That's crazy... your "NEW" palette looks extremely similar. 🤔 https://t.co/ualEHvoLOP

— James Charles (@jamescharles) September 7, 2019
The James Charles X Morphe palette was sold for $39 a piece while wet n wild is offering theirs for $25. Have got to get me a wet n wild palette. James was put in place by Twitter as he has a history of stealing artwork and does not give the original artist any credits.
Nikita Dragun
After the VMAs fiasco with YouTubers dressing hideous, Nikita Dragun has once again got people talking about her with her choice of hairstyle for New York Fashion Week. The mother of Draguns went for braids and people went crazy. She defended the look by saying she picked it to pay tribute.
Nikita Dragun's Explanation on Instagram
Naturally, people were not having it and sincerely waiting for her to be cancelled. Please do ya thing, cancel culture.
Ace family
Ace family has been one of the most infamous families in the public eye. The mudslide disaster made people think Jake Paul is a better neighbour and person than this family. I mean, what more do we need to say? Austin Mcbroom, the dad, rode a jet ski in his infinite pool and caused massive mudslides in his neighbour's yard. Know more about the drama here. Ace Family Gets CANCELLED After They Cause Mudslide in Their Neighbour's Property.
Jaclyn Hill is Selling Benefit Cosmetics Now
Jaclyn Hill might be the luckiest person ever. She magically received a box full of Benefit Cosmetics' "cookie" highlighters with her name on it. She received about 100s of highlighters and said she didn't have anything to do with it. Sending one box is enough but sending 100s of the same products. Okay, Jaclyn. We totally buy you have nothing to do with this. It looks like Benefit is the new morphe for her.
That's all for this week's tea. Jaclyn and James are still headed shoulder to shoulder to get the throne to most drama ever. But we never know, the pace Nikita Dragun has taken, she might even leave the two far behind.