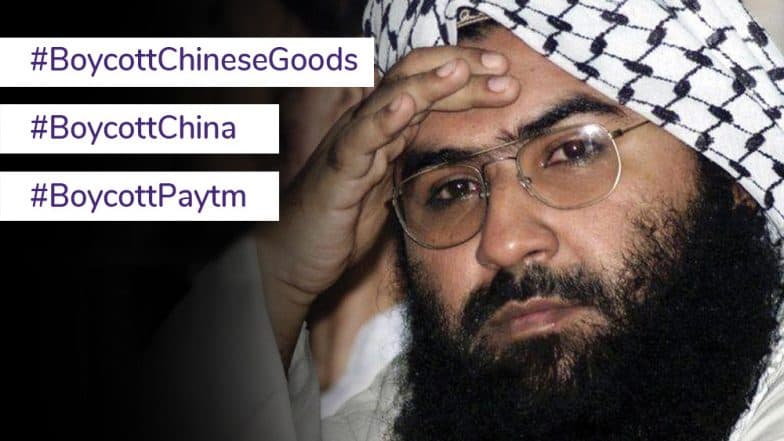 China's decision to block the proposal at the UN to enlist Jaish-e-Mohammed's (JeM) chief Masood Azhar as a global terrorist derived sharp criticism from countries across the globe. As the country continues to receive flak for their stand, Indians have taken to Twitter demanding a boycott on Chinese goods. People took to social media stating that there should be a ban on Chinese goods being sold in Indian markets. A number of Indian companies, firms, brands run or funded by Chinese agencies also came under the radar of the Twitterati. Here's How China Blocked the Listing of Masood Azhar at the UNSC.
Paytm, TikTok and list of other apps used extensively in India have been listed under Chinese products that need to be boycotted. #BoycottChineseGoods, #BoycottChina, #BoycottPaytm, #BoycottChina, #ChinaBacksTerror are among top trends on Twitter. This is the fourth time that China has blocked the resolution against Azhar since 2009. If China refuses to amend their actions, responsible member-states of the United Nations' Security Council may be forced to pursue other actions, diplomats at the UN's principal organ have warned. Rahul Gandhi Says PM Narendra Modi Is Scared of Xi Jinping After China Shields Masood Azhar Again, BJP Hits Back.
Check out Twitter reactions below:
China App developers invade India. See the number of Chinese app in Google play store increasing each day. #BoycottChina pic.twitter.com/4nJbaRu2CB

— tweetie🇮🇳 (@singhpsoniyoo) March 14, 2019
The proposal to designate Azhar under the 1267 Al Qaeda Sanctions Committee of the UN Security Council as a global terrorist was moved by France, the UK and the US on February 27.
Stop buying China products now China is directly supporting terrorism and Pakistan.

China blocks masood azhar as

international terrorist

Today onward I am not buying any China products pic.twitter.com/CphJWaM5GB

— vishal patil (@vishal_bharatha) March 14, 2019
The development came days after a suicide bomber of the Jaish-e-Mohammed (JeM) killed 44 CRPF soldiers in Jammu and Kashmir's Pulwama. The incident led to tensions between the two nations.
#ChinaBacksTerror I pledge to #BoycottChina all Chinese apps. Let us show the Veto Power of 133 crore Indians. pic.twitter.com/8W2OTiCgmh

— Nitin Lad (@godvdevil9) March 13, 2019
JeM claimed responsibility for the terror attack following which Pakistan was accused of breeding terrorists and their organisations.
Say no to chinese product

No oppo

No vivo

No one plus

No redmi

No Huawei

No chinese toys

No chinese electronics

Remove MFN @MEAIndia#BoycottChina

— @isumeet (@isumeet31) March 13, 2019
Meanwhile, some showed the other side of reality.
Indians are trending #BoycottChina on a laptop/mobile made in China!!

And I am sure thousands went crazy to buy a #RedmiNote7Pro in the morning at #Flipkart!!

This is exactly what is wrong with India and Indians!!

Stupid emotional response to anything and everything!!

— Vidyapati (@Vidyapatii) March 13, 2019
Aren't we being hypocrites?
I sympathise with those trending #BoycottChina - but will they soon get back to posting TicToc videos on their Chinese handsets? Or can they truly make China feel that there is a price to pay for supporting the likes of #MasoodAzhar

— Vikram Chandra (@vikramchandra) March 13, 2019
A statement issued by the External Affairs Ministry did not identify the "member" of the UNSC which put the proposal on hold, however, sources said it was China. MEA's statement reads, "We are disappointed by this outcome. This has prevented action by the international community to designate the leader of Jaish-e-Mohammed (JeM), a prescribed and active terrorist organization which has claimed responsibility for the terrorist attack in Jammu and Kashmir on 14 February 2019. We are grateful for the efforts of the Member States who moved the designation proposal and the unprecedented number of all other Security Council members as well as non-members who joined as co-sponsors."