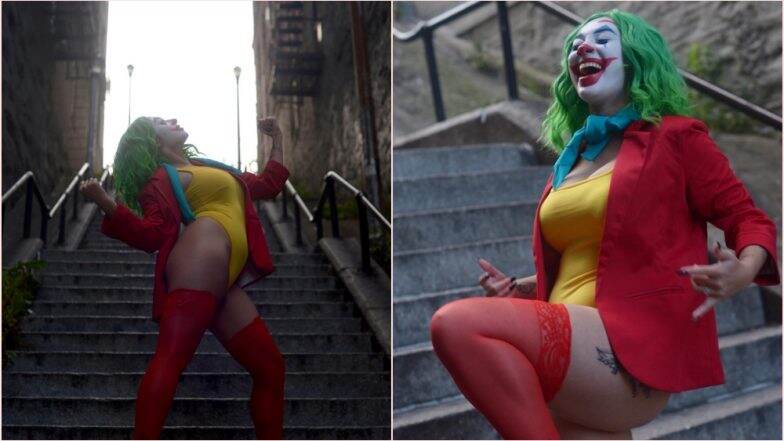 One of the most awaited films, Todd Phillips' Joker has recently made it to the big screen. While the movie continues to laugh all the way to the bank earnings, Arthur Fleck's character even earned massive controversy. But that did not stop the craze among fans. In a bid to honour Fleck's character, a New York-based cosplayer dressed as Joker and posed for pictures at those iconic stairs. However, that impressed the social media users. The viral pics uploaded on Facebook has sparked debate online with netizens brutally trolling and accusing her of "appropriating Joker culture." 9 Powerful Dialogues by Joaquin Phoenix's Arthur Fleck Will Stay with You Hours after You Leave the Theatre!
Veronica Rae, who has above 28,000 followers on Facebook, happily shared images from her photoshoot in the Bronx. "I used to think my life was a tragedy, but now I realize, it's a comedy…I whipped up a female Joker in about 2 days just so I could shoot on the iconic stairs!" she posted the beautiful pictures on Facebook. Cinderella With a Glass Arm! Californian Woman Creates the Iconic Fairy Tale to Inspire Amputees Who Wear Prosthetics. 
Here Are the Pics:
But that did not go well! Her post instead flooded with hate, sexist and disparaging comments. "Everyone who defends this woman is a coomer," reads one of the comments. "Sad sexualization of a character! Why do people like you have to do this to characters!!!I can't belive you'd do this for attention. Disappointing!" said another. Coomer is a derogatory term describing someone addicted to masturbation. Other commenters accused the cosplayer of "appropriating" Joker culture. One person even shared a GIF that reads, "GAYYYY."
Rae was upset after getting the online trolls and threats. She was at The Daily Dot as saying, "I thought it would just be a 'normal day in the office' of two thousand reactions and that's it. But then again, we live in a world where primarily women, (and men) are judged on their every move. So it definitely comes with the sexy and controversial territory." But she is "okay" with the trolls' backlash. Rae posted another photo of herself in Star Wars' character, Jar Jar Binks costume giving an appropriate response, "I hear you all loud and clear. Is this better for you?"
Here's Her Response to Haters!
People did get her humour, and they loved that about Rae. Aside from the haters, many lauded her effort. Rae's apt makeup, green hair and those poses at the stairs was so beautiful and relatable. It could not have been any better!