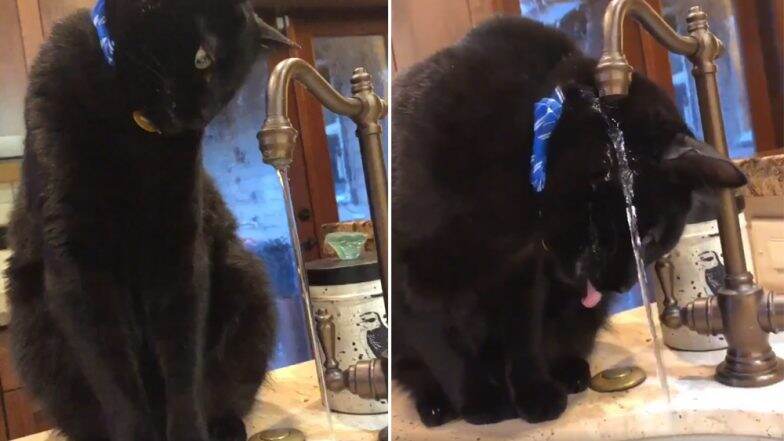 Footage of a cat trying to drink from a tap is going viral on the internet making people talk about the "drinking problems" their cats are having. A simple tweet of Maddie Joel containing a video clip of her cat trying to drink water from the tap but failing miserably at it is going viral on Twitter. The tweet has gathered over 72.4K Retweets and 249.7K Likes on Twitter. Maddie's cute video of her cat not being able to drink water properly had the caption "my son is really bad at drinking water." The video's popularity took Maddie by surprise and she soon retweeted it with "i didn't expect this to blow up!! follow his insta @dinetheson and please consider adopting from your local shelter, there's tons of animals waiting for their forever homes![sic.])"
Take a look at the cat video:
my son is really bad at drinking water pic.twitter.com/4YkrPeOP1s

— mads (@MaddieJoel) February 15, 2019
Here are some of the hilarious reactions:
They found the perfect match soon
the perfect match <3 pic.twitter.com/AQQqdJ4JFP

— emily (@atshitshisalad) February 16, 2019
This is hilarious!
Omg mine does the same thing 😂😂😂 pic.twitter.com/b50IgY35Cc

— Marc Marshall (@MarcMarshall94) February 17, 2019
Just can't
our cats have matching fish tags pic.twitter.com/qxtSVymLl3

— gabri (@emptyhoneyjar) February 16, 2019
Here's a master
it took him a year to master this pic.twitter.com/tPKInDKLaF

— sαrαh (@thugshugs) February 16, 2019
The struggle is real
Ray..we have to turn the water on several times a day! pic.twitter.com/3E6tlZYfKA

— connie (@mewmewmew13) February 17, 2019
Humans too
— 🅞🅡🅘🅞🅝 (@vectorbae) February 16, 2019
ROFLing
There are four bowls of water downstairs pic.twitter.com/s6f3wak6Mj

— Stephanie Marazzo (@marazzos) February 17, 2019
In no time Twiteratti began to churn out jokes based on the cat's drinking habit, calling it "drinking problem." Twitter seems to be having a great Sunday so far.