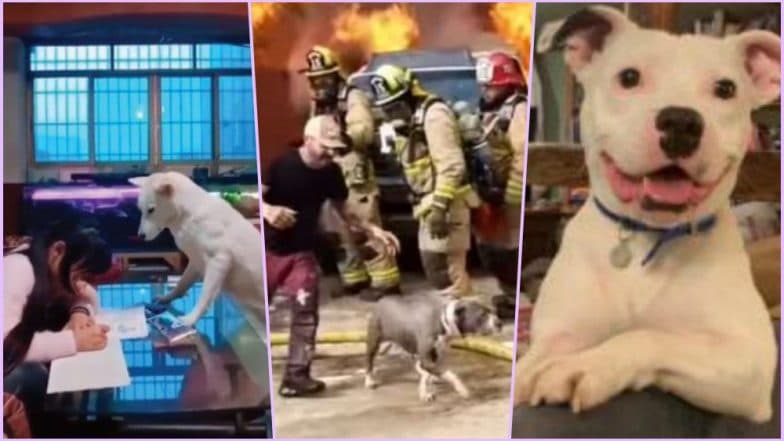 After a prolonged tiring week, we are back again to enjoy yet another lovely weekend. Which means, it is also time to look back at the viral pieces that kept us captivated in every stressful hour this week. Many of you must have those Saturday night plans which include either going out or having pizza in bed. Before you take a step ahead with all your weekend vibes, pause and give huge credits to all the viral videos that kept you enthralled. Before we begin, with our weekly selection of top seven clips, you will be glad to know that our amazingly cute dogs ruled the chart. Yes, dog lovers were all in the right mood as the adorable pooches touched millions of hearts with their innocence. So, without any further delay, let us begin with this week's top seven videos going crazy viral across social media. You cannot thank enough the online platforms for the below incredible clips. How Fair Is the Battle Between the Swedish Solo Creator & Indian Music Corporation?
1. Abandoned Snoop Finds A New Home
Last Christmas distressed many dog lovers, after a CCTV footage of an abandoned dog at the roadside in the United Kingdom was going viral. The sight was so disheartening that American rapper, Snoop Dogg approached UK's Royal Society for the Prevention of Cruelty to Animals (RSPCA). But the doggo Snoop was battling separation anxiety. After months of recovering, Snoop the Staffie found a new owner and a home. Social media rejoiced to see the happy dog playing with his new master.
2. Baby Chimpanzee Hiding Under Blanket
This little chimp was traumatised and hesitated to come out from the safe cocoon of her blanket. She reportedly saw her mother get killed by a group of poachers. The heart-breaking video was all over the social media platforms, raising concerns over cruel poaching that is destroying many of their homes. The infant chimpanzee is rescued in the Democratic Republic of the Congo. We hope that she smiles and play again just like other chimpanzees.
3. Kangaroo Attacks Paraglider
Entering a Kangaroo's territory is not welcoming at all, and this video is proof. The paraglider, Jonathan Bishop did acknowledge the hello, but it soon the animal began to push him to the ground. Bishop who thought at first to be a friendly encounter, was surprised to see the kangaroo attacking him. It was a bit dangerous, and thankfully no one was hurt, but the internet could not control their laugh at the paraglider's sorrow. Iranian Couple's Viral Marriage Proposal At A Mall Leads To Their Arrest. 
4. Man's Mirror Selfie Video
View this post on Instagram
Shawn Reischauer and his brother made this video out of boredom and never had the slightest hint that it will go this viral. Well, the mirror selfie video turned out to be an optical illusion, and it left the people online all confused. While people came up with different explanations, most of them reportedly appeared incorrect. People concluded that the brothers were twins. But it is not true either! Scroll up and watch the video again to find out the truth.
5. Man, Risks Life to Save His Dog from Burning House
Jose Guzman was going out to meet his parents, and he had no idea that something as serious would have happened. His neighbourhood house caught fire, which later spread, and his own home started to burn. Without thinking for once, he rushed into the house to save his pet, ignoring the fire rescuers' constant warnings. Although both the dog and its master are safe with minor injuries, they lost their house, two cars and other belongings. Animal lovers across the internet were touched and commend his generous act.
6. Triangle Dance
TRIANGLE DANCE. Combining teamwork, cardio, and crossing the midline, and incredible FUN! This dance has it all! Makes an awesome instant activity ! #physed #triangledance pic.twitter.com/JMygGlECrf

— Justin Cahill (@justybubPE) March 12, 2019
Triangle dance is the latest internet craze to grip social media users. If you haven't tried yet, watch the video again to participate in this new challenge. Three individuals stand in a circle holding each other's shoulder, jumping sideways at the same time. There is no risk to anyone involved, and it is a safe physical activity to indulge upon to increase team bonding.
7. Pet Dog Supervises Girl's Homework
The week just ended accurately, with this adorable video being shared online. A smart dad found the best way to make sure his daughter is concentrating on her homework and not check her phone. He trained his pooch to keep a vigilant watch and ensure that his daughter finishes her homework. This wonderfully obeyed dog can be seen standing up, all eyes on the little girl who is bound to finish her homework. There is no chance for the girl to get distracted or come up with any excuses!
Aren't these videos remarkably adorable? While a few are upsetting, but it also reveals the human sight of everyone revolting to the unjust together. If you have missed any of these videos, scroll up and watch them all, as they are sure to make your weekend amazing. We hope for such exciting videos going viral in the weeks to come. Till then, enjoy your weekend and use the internet wisely.