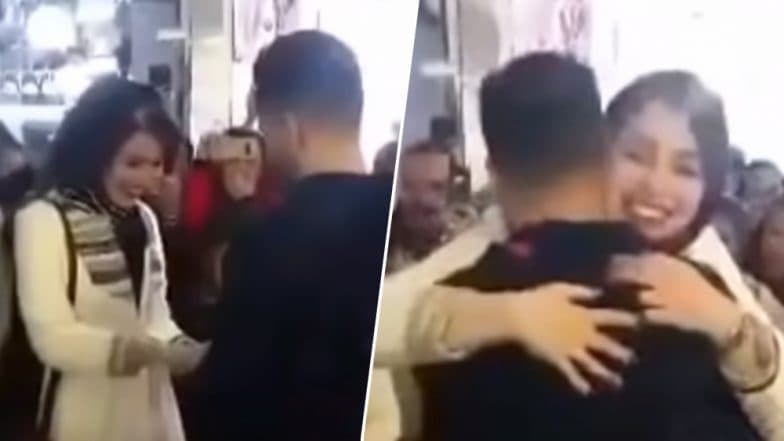 An Iranian couple has been arrested after their proposal video went viral on social media. The video shows the couple standing inside a heart-shaped outline of red flower petals with balloons floating around them at a public place. The man then proposes to the woman as people stand around them capturing the occasion on their phones. The woman says 'yes' and the man slips a ring on her finger. They hug and the crowd standing around them cheer. The couple got engaged at a mall in the central Iranian city of Arak.
The video went viral with people praising the romantic setting and congratulating the young couple on getting engaged. The two were not identified. However, things did not go well thereafter and they were arrested with police officials citing that that public display of affection was against Islamic laws. They were later released on bail. Iranian Women Disguise as Men to Watch Football Match at Azadi Stadium as Country's Regressive Law Continues.
Here is the video:
Mostafa Norouzi, deputy police chief in Arak, told the Shahrvand Daily that it is unacceptable for the young "to do whatever is common in other places of the world and disregard mores, culture and religion" in Iran. Norouzi added that the pair's "offence is very clear and there is no need for an explanation" on the reason of the arrest. Those who follow Iranian beliefs, consider publically showing affection as an influence of Western culture. They maintain that it threatens the morals of conservative Islamic society. Iranian Female Photojournalist Parisa Pourtaherian Praised on Twitter for Covering Men's Football Match.
However, Lawyer Isa Amini, head of the Tehran Bar Association, criticised the arrest and said that the couple did not commit any crime. But most of them called it "shameful" and "immoral. Hard-line Fars news agency demanded "harsh" punishment to stop such displays so that they are not repeated.