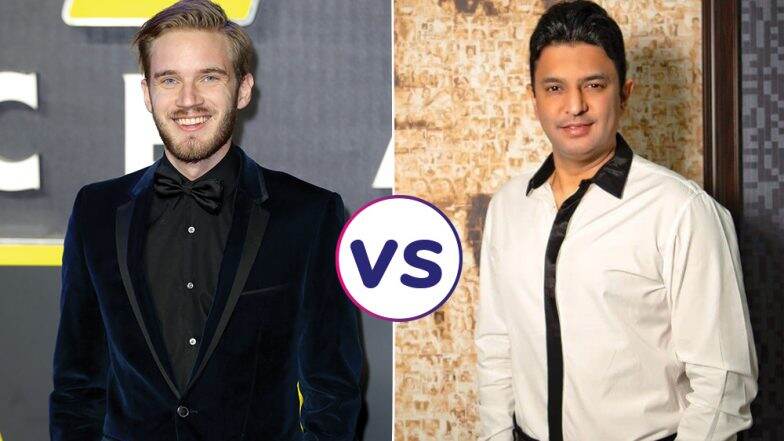 With over 88.77 million subscribers, PewDiePie is leading as the most-subscribed YouTube channel in the world. At the time of writing this, Felix Arvid Ulf Kjellberg is hanging onto that title by over 20,000 subscribers between him and Indian music corporation, T-Series. The battle which began in September 2018 was predicted to end by the end of November, but we are in mid-March now, and the fight doesn't seem to end anytime soon.  But the neck-and-neck competition to become the most subscribed channel raises one question—how fair is the battle? We all are witnessing a fight between a 29-year-old Swedish solo creator and a 36-year-old Indian music corporation. As fans and Indians, how reasonable we are while deciding to which channel we should subscribe to?
To narrow the gap between T-Series and PewDiePie, Bhushan Kumar MD T-Series launched the #BharatWinsYouTube campaign, calling on Indians to subscribe to the company's YouTube channel and make them win the battle. Soon after, we saw Bollywood personalities coming out in support of Bhushan Kumar.
Watch Bhushan Kumar Appealing to Indians to Boost Subscribers:
We're on the brink of becoming the world's biggest @YouTube channel. We can make history. We can make India win. Subscribe to @TSeries #BharatWinsYouTube https://t.co/izEu8dzHdf pic.twitter.com/dJumzHwADa

— Bhushan Kumar (@itsBhushanKumar) March 6, 2019
T-Series v/s PewDiePie: Tug of War
Some say the race with T-Series has helped Kjellberg gain more visibility on the internet. It may be partly true! As the battle ensued, we have seen PewDiePie's fans going all out, leaving negative comments and even hacking several accounts to boost Kjellberg's reach. And it worked out pretty well! When the battle began to make headlines, the gap between both the YouTube channels was about a million. And now, it is just above 20,000. 7-Year-Old Ryan Tops the Forbes Highest-Paid YouTubers 2018 List Among Others. 
Solo Creators v/s Music Corporation: Fair Game?
Gulshan Kumar founded T-Series in 1983 as a full-fledged company. The company's breakthrough came when it released the soundtrack for the 1988 Bollywood blockbuster Qayamat Se Qayamat Tak. The music corporation joined YouTube in 2006, but only started uploading videos in late 2010 when it realised the platform's massive reach. On the other hand, Kjellberg was born in 1989. He started his YouTube channel, PewDiePie in 2010 and has been creating content single-handedly that includes his Let's Play-style video game commentaries particularly of the horror genre. This clearly gives you math!
When Kjellberg noticed, there were too many hateful remarks about Indians in his comment section after the battle was announced, he decided to twist his campaign but for a cause. The Swedish vlogger initiated fundraising for the underprivileged children in India. His GoFundMe campaign for famous NGO, Child Rights and You (CRY) raised more than Rs. 1.3 crores in just a day. This move impressed YouTube fans across the world and even increased PewDiePie's subscribers.
Recently, when T-Series noticed that it is just a few thousands of subscribers away from winning the battle, Kumar came up with #BharatWinsYouTube campaign. This is a serious subject of concern. From politicians to corporations, many use nationalistic sentiments to further their purposes. And as an Indian, I am just bored of seeing this tactic used time and again for petty reasons. It's high time they stopped bringing in nationalism to marketing campaigns because admit it, you are doing it for your own business gains. There is nothing more shameful than exploiting people's sentiments for your selfish purposes, T-Series.
Felix Kjellberg & Bhushan Kumar Marketing Gimmicks
Kjellberg is no saint either. He is one of the most-controversial YouTubers on the platform. Previous records have shown him moving from scandal to scandal, like when he gave a shout-out to an anti-semitic channel on YouTube and used the 'N' word in a video. While PewDiePie has apologised for some of these scandals after criticism, his content has not really changed much. Kjellberg's media attention has not always been attributed to his uniqueness but his irresponsibility as a creator. His "Creator vs Corporation" campaign to boost subscribers is as flawed as Kumar's "India vs the World" and #BharatWinsYouTube.
Watch Video of PewDiePie's Diss Song For T-Series:
To conclude, both the channels have been irresponsible, only prioritising the growth of their channels instead of creating a wholesome YouTube community. If you can't ignore the battle, at least choose wisely between the two.
(The opinions expressed in the above article are of the author and do not reflect the stand or position of LatestLY.)