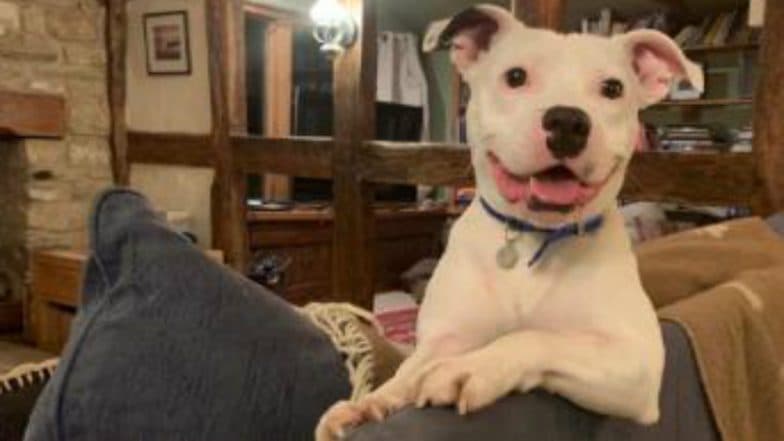 Just days before Christmas 2018, a CCTV footage was going viral of a dog abandoned at the roadside in the United Kingdom. The 1 minute clip reached millions of people, breaking their hearts looking at the misery of the innocent canine, named Snoop the Staffie. UK's animal welfare charity Royal Society for the Prevention of Cruelty to Animals (RSPCA) shared the video, urging if anyone would adopt the abandoned dog. The charity finally announced that Staffie had "a home for life now" in the rolling Herefordshire countryside with new owner Laurence Squire. It took some time for the dog to adjust at the new home. After battling separation anxiety, he is now in love with his new parent. Nepalese Stray Dog Creates Record by Climbing Himalayan Mountain Along With Expedition Team. 
Snoop the Staffie was dumped on the streets of Stoke-on-Trent, central England on December 17. The viral video shows the dog getting out of a car. His owner then throws the canine's bed onto the pavement, unclips the dog and drives away as the poor canine chases after the car. According to RSPCA, a passer-by found the abandoned animal sat in its bed and took him to a local vet, who called the charity. Dallas Gunman Shoots Puppy in the Face in Front of Three Young Children and 'Apologises' Before Committing the Crime. 
Watch Video of Snoop Abandoned By His Owner
When RSPCA shared the video, many people request to adopt Snoop including American rapper Snoop Dogg. But RSPCA said that the pooch was suffering from separation anxiety after being left in the street. The animal charity has now revealed that Snoop has found a loving new home.
Watch Video of Snoop in His New Home
His owner Laurence was quoted in media reports, "He is a fantastic dog and he settled in straightaway. As soon as he came into the house for the first time, he jumped on the sofa and it was as though he decided that was the space for him. He loves to lie on the back of the sofa and if I put the fire on he will curl up in front of it."
Snoop is now free to roam around a large garden area, and the surrounding fields and RSPCA spokeswoman Rachel Butler has revealed that the canine is loving his new life having battled against his separation anxiety after being abandoned. Besides, the investigation into Snoop's abandonment is ongoing.