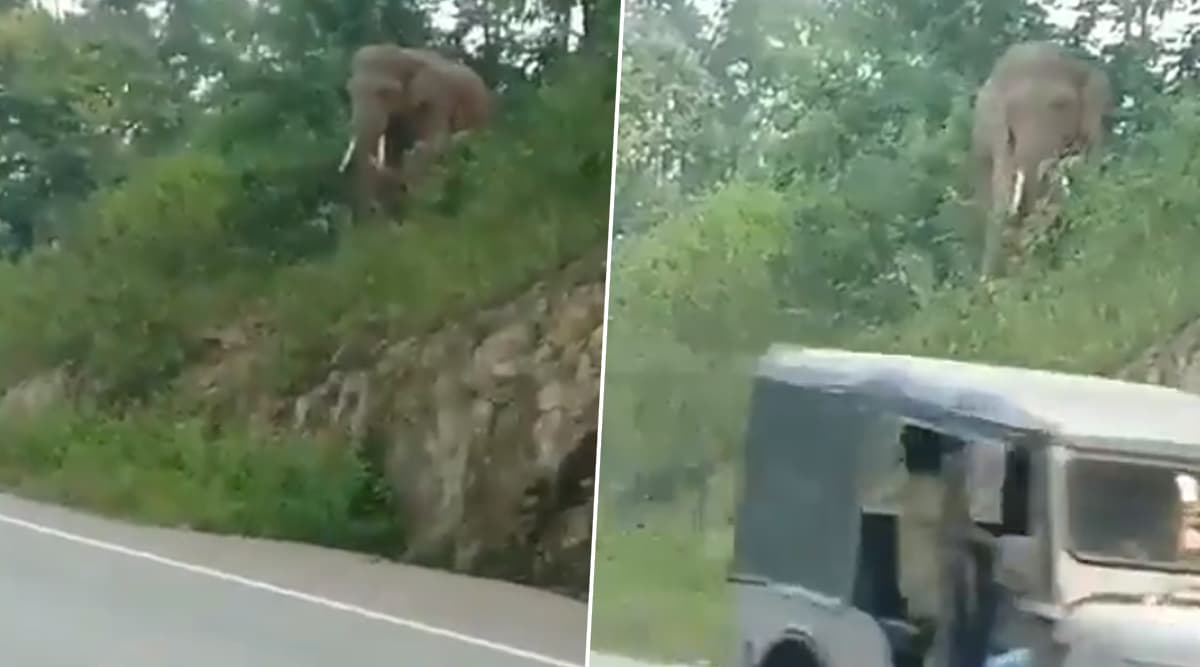 A video of an elephant waiting patiently to cross a busy street has surfaced on social media. The 29-second video was posted on Twitter by Parveen Kaswan of the Indian Forest Service. The jumbo was spotted near the Dalma Wildlife Sanctuary in Jharkhand.  In the video, the elephant can be seen standing on an elevated region by the road waiting for the vehicles to pass. Elephants know their routes quite well and know when to stop and what to expect on the way. Baby Elephant Nudging Man to Play With It Will Hit You Right in The Feels (Watch Video)
Parveen Kaswan shared the video on Twitter with the caption, "Learn some traffic sense from this #tusker. Or he is just figuring out how to tackle this road which has come upon his way. #Elephants live for 60-70 years so they remember all their traditional routes of #migration. This one is forwarded from near Dalma."  Cute! Elephants Playing Football At Dubare Camp In Karnataka's Kodagu Will Take Away Your Mid-Week Blues (Watch Video)
Watch The Video Here:
Learn some traffic sense from this #tusker. Or he is just figuring out how to tackle this road which has come up on his way. #Elephants live for 60-70 years so they remember all their traditional routes of #migration. This one is forwarded from near Dalma. pic.twitter.com/nxmKisC1W4

— Parveen Kaswan, IFS (@ParveenKaswan) November 13, 2019
Earlier a video of an elephant putting aside a turtle to safety which on the road had gone viral. As it was a busy road, the turtle could have been easily missed, but the jumbo ensured the turtle was safe before going its way. Prior to which, video of an elephant at a Thailand national park hugging a car had gone viral. The driver had the scare of its life as the animal sat on it breaking its windshield. While elephants are extremely friendly with humans, at the same time they are dangerous and can kill a person in seconds. Videos of baby elephants playing with humans are a sight to watch. They are naughty, mischevious and troublesome, just like human babies.