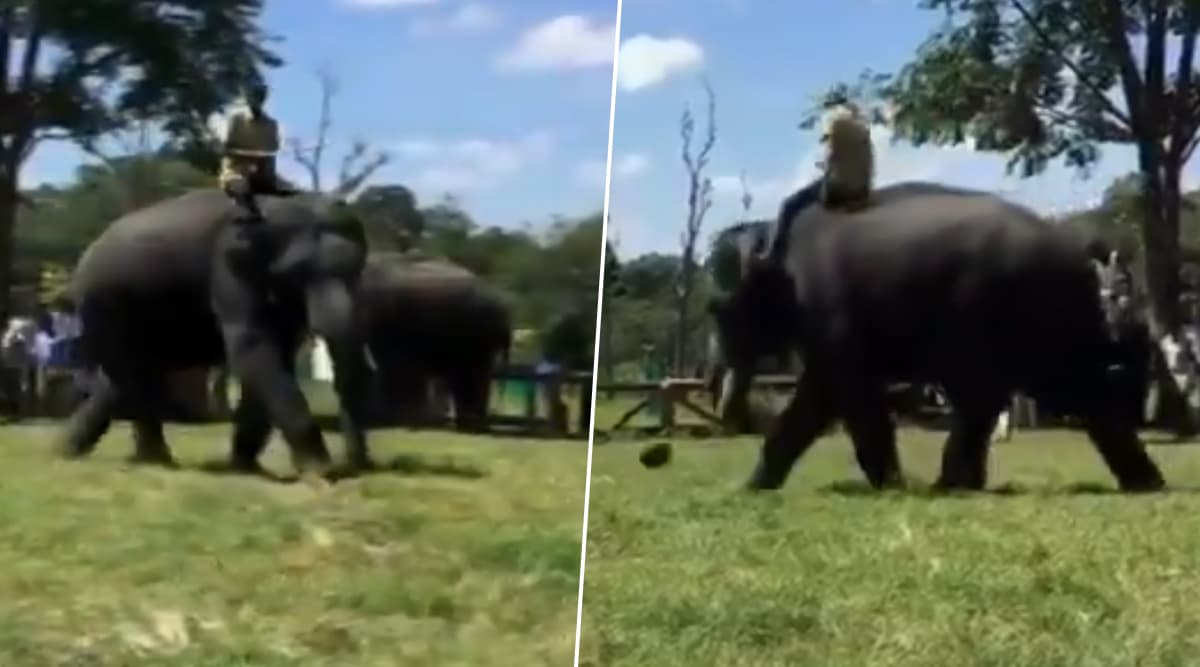 An adorable video of elephants playing football at Dubare Elephant camp in Karnataka has gone viral on social media. The jumbos returned to their camps on Tuesday after participating in Mysuru's Dasara festival procession. The sight of these elephants often amuse visitors who enjoy watching the adorable pachyderms. From taking a bath together with their herd to playing with each other, their antics are fun to watch.  Multiple times in the past, videos of young elephants playing football has gone viral. Baby Elephant Nudging Man to Play With It Will Hit You Right in The Feels (Watch Video)
The upscale camp has 26 elephants, excluding three others in a nearby camp. Among these 29 elephants, six of them including Anekadalliro Vikram and Vijaya participated in the Mysuru Dasara celebrations. Reportedly, some of these elephants have been trained to salute, race and play football. Children are often attracted to the sight of these jumbos playing football. As per reports, the elephants in this camp are practising with other elephants fro the upcoming Mumbaro Elephant Festival. Video of Clumsy Baby Elephant Chasing Dogs Is Your Today's Serving of Utter Cuteness!
Elephants Playing Football at  Dubare Elephant Camp in Karnataka:
Dubare elephant camp is a forest camp located on the banks of the river Kaveri in Kodagu district of the state. Dubare Elephant Camp is a project undertaken by the Forest Department and Jungle Lodges and Resorts Ltd which is eco-tourism wing of the Tourism Department of Karnataka. Mysuru Dasara is a grand 10-day festival which began with Navratri with the big procession organised on Vijayadashami. These elephants are brought from Nagarhole forest and kept at Mysore Palace ahead of the festival.