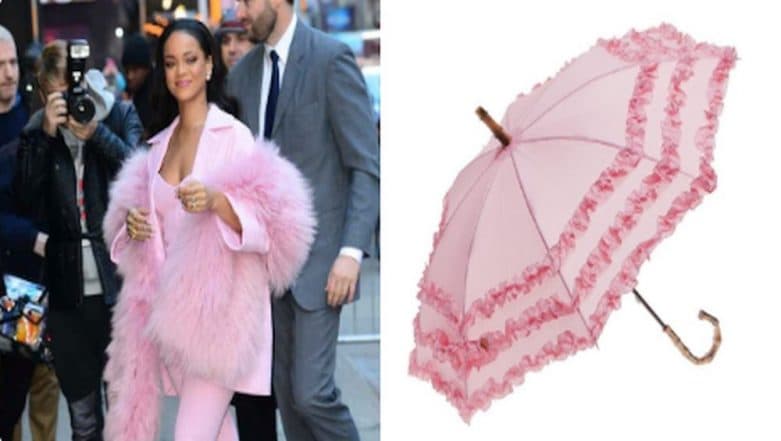 How would the most famous people on earth would look like as non-human objects? Twitter is bursting with imaginations and the creative images are super hilarious and fun to watch! This new Twitter trend is all about people imagining how famous people would look like non-living things. People are comparing these celebs with non-living objects such as M & Ms and a Bus and various other things the Twitter threat includes a collage of the celeb picture on one side and a non-living thing's picture on the other. Twitter is flooded with these funny and creative memes. Funny Student of the Year 2 Memes and Jokes Takes Over the Internet! Check Out the Most Hilarious Ones.
Here are some of the most popular comparisons:
Rihanna as an umbrella
rihanna as umbrellas: a thread pic.twitter.com/gafpmNBoXw

— becky w/good hair (@beckydegeneres) April 10, 2019
Louis Tomlinson as an emoji
Louis Tomlinson as emoji or emoticons

A thread 💕 pic.twitter.com/AnANh7IDbv

— Lou (@justlike_loui) April 13, 2019
Tessa Thompson shared her own version
I enjoy snacks. I enjoy this. https://t.co/kXmHABHyj6

— Tessa Thompson (@TessaThompson_x) April 12, 2019
Brie Larson as M&Ms
Brie Larson as m&m's : A thread. 🌸

inspired by @ttomholIand's tweet. pic.twitter.com/S9wBGEIvfA

— aaru 🥀|| fan account. (@mishackles_) April 13, 2019
Taylor Swift as a bus
Taylor Swift as Dutch Public Transport: a thread inspired by @alexislswift pic.twitter.com/XpJHw8b1eE

— Ровди ☭ (@RowdyHD) April 13, 2019
Justin Bieber as Nacho Cheese
Nacho cheese pic.twitter.com/X4bZIbC5At

— bts killed yah (@biebsicles) April 13, 2019
Jennie Kim as a pillow
jennie kim as pillows: a thread#BLACKPINKxCoachella_D1 #BLACKPINK#JENNIEKIM pic.twitter.com/mnTNa2ztFo

— BLACKPINK IS MY SOUL (@yasssitsyassi) April 13, 2019
Beyonce as sea sponges
Beyoncé as Sea Sponges, a thread pic.twitter.com/8Wy6uonkOy

— ΗΘΜΣCΘΜΙΝG (@BeyBeyliciouss) March 30, 2019
Ben Barnes as dishwashing liquids
ben barnes as dishwashing liquids: a thread 🤪 pic.twitter.com/uIYMSYdBe1

— 𝐭𝐚𝐛𝐬 (@martellsoberyn) April 13, 2019
Shawn Mendes as Lala
@ShawnMendes as a telletubby in a thread: pic.twitter.com/vkzxNBROYK

— courtsart (@courtsart1) April 13, 2019
Eminem as Jalebi
Eminem as Indian desserts — A Thread pic.twitter.com/RYsnq52AVr

— ʂ🍺 (@shadyinyourhead) April 12, 2019
Some of the results are simply hilarious, don't you think so? Imaginations do go wild and it is sometimes unbelievable.