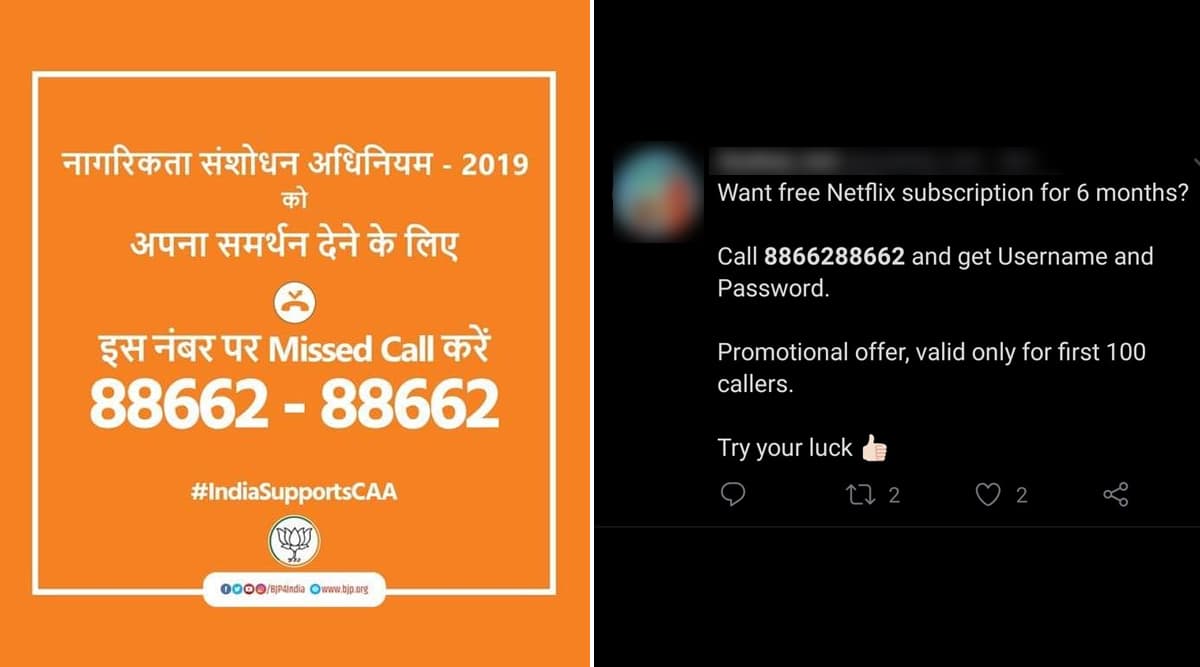 New Delhi, January 4: In a bid to mobilise support for the Citizenship Amendment Act, the Bharatiya Janata Party (BJP) has launched a toll-free mobile number for people to give missed calls to register their endorsement of the contentious legislation. During the BJP's 10-day mass contact drive, which started from January 5, people have been urged to give a miss call on toll-free number 88662-88662. However, the number is being misused on social media. Why Citizenship Amendment Act+NRC Raise Fear And Concerns: A Multi-Dimensional Take.
Twitter is flooded with tweets that claim to offer various services have BJP's 88662-88662 number as contact number. Some people are misusing the number by offering services such as free subscription of Netflix, free mobile data and hot chat with girls. There are hundreds of tweets offering such services and asking people to contact on 88662-88662 number. Some posts are offering people a telephonic conversation with celebrities on the same number. CAA Passage Jolts Northeast: Why Assam and Neighbouring States Are Up in Protest Against Citizenship Amendment Bill.
BJP Chief Amit Shah Urges People to Give Missed Call on 88662-88662 to Register Support For CAA:
To extend your support for the historic Citizenship Amendment Act-2019 brought in by PM @NarendraModi's government, to ensure justice to the religiously persecuted minorities from Pakistan, Bangladesh and Afghanistan, kindly give a missed call on 88662-88662. #IndiaSupportsCAA pic.twitter.com/g7pTItqYjA

— Amit Shah (@AmitShah) January 3, 2020
"Want free Netflix subscription for 6 months? Call 88662-88662 and get Username and Password. Promotional offer, valid only for first 100 callers. Try your luck," read one such tweet. Reacting to such wooing tweets, many alleged that such misleading posts are tweeted by supporters of the BJP in an attempt to garner more and more support for the CAA. However, LatestLY does not know the origin of these tweets and background of those who posted.
Misleading Tweets With BJP's Toll-Free Number 88662-88662:
The creativity on display is highly amusing here... pic.twitter.com/dYjZHOtDwz

— Meghnad (@Memeghnad) January 4, 2020
Bhai apna toh subscription 3 months ka he hua, koi na

I think will have to call again on 8866288662 to get 3 more months. pic.twitter.com/eRXErv1i6j

— Rahul Sharma (@rahulsharma25) January 4, 2020
69 hot singles in your city want to have sex with you. 🔥

Call 8866288662

— चार लोग 2.0 (@WoCharLog) January 4, 2020
The CAA gives Indian citizenship to all immigrants fleeing persecution in Pakistan, Bangladesh and Afghanistan - but not if they are Muslim. Critics see the newly-passed CAA through the prism of the National Register of Citizens (NRC). While non-Muslims left out of the NRC may be able to get citizenship under the CAA, Muslims who could not make the list may be deported or sent to detention centres. However, the government said that no Indian will be affected by the CAA.