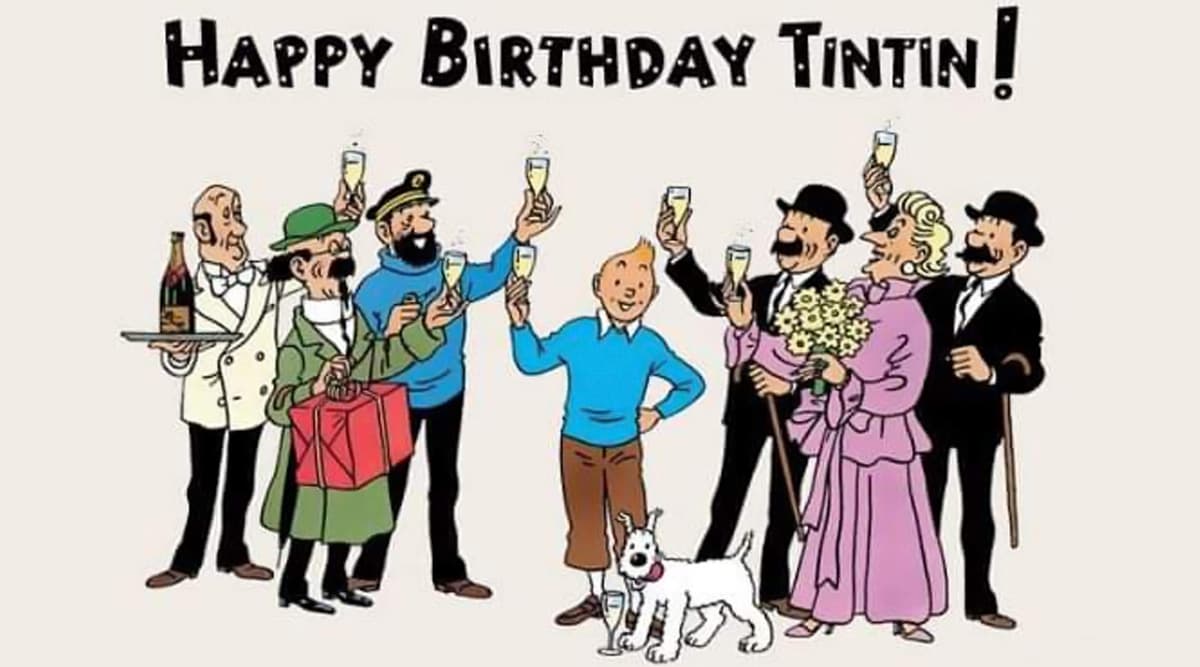 Tintin turned 91 today! Every year on January 10, the iconic cartoon character celebrates his birthday with fans who go all nostalgic, remembering all the best moments from the book. With his loyal dog Snowy and partner Captain Haddock, Tintin had the most thrilling adventures etched to our memories. In his blue sweater, rolled pants and copper hair, Tintin has always been the highlights of the day for all comic books and cartoons lovers. To celebrate the iconic character's birthday, fans every year trend, 'Happy Birthday Tintin' on social media, paying their tributes and recalling all the fun moments from the comic books. And this year was no less! They flood their Twitter timeline honouring the Belgian icon and fearless journalist, as he turned 91. An Early 'Tintin' Cover Sells at Auction for USD 1.1 Million. 
Blessed are those who grew up reading Herge's The Adventures of Tintin. Some books are better felt and experienced than explained, and the comic series served it all. A total of 24 volumes published between 1929 and 1986, the comics gave us an endless lover-affair with adventures. In fact, many have been inspired by Tintin and his fearless journalism to pursue the career. Unlike more colourful characters, Tintin's personality is neutral, which allows the readers to assume and understand his position in the story. His creation remains a famous literary figure. Tintin was even featured in a 2011 Hollywood film, which was directed by Steven Spielberg. The comic book series also led to an animated TV show which had three seasons.
We can go and on, but our love for Tintin can never be described enough with mere words. From taking on thugs to making everything right, the character taught us so many things. On his special day, Tintin fans thank him for giving all its readers an incredible journey that will relish a lifetime.
Happy Birthday Tintin!
Happy 91st birthday to the man who inspired me to travel and to write adventures! #Tintin! pic.twitter.com/hHCyygBxm9

— Cath Norris (@CathTigermoth) January 10, 2020
An Inspiration to Many!
The Man, who inspired me to take up reporting, turns 91 today... Happy Birthday #TinTin ... pic.twitter.com/ZarRwZkuP6

— Supriya Bhardwaj (@Supriya23bh) January 10, 2020
Raise A Toast For Tintin:
The dearest companion of childhood #Tintin is 91 today. #comics #readbooks pic.twitter.com/ZEigGinSpI

— Pratik Banerjee (@trailsoftravel) January 10, 2020
Joyous Day for Fans!
☀ 10 January 1929 – 10 January 2020 🍀

« Journal Tintin » 1965. #tintin #herge pic.twitter.com/gmGu7TLFIv

— TINTIN SIGNÉ HERGÉ (@SigneHerge) January 9, 2020
It's A Fine Mess!
Happy birthday to Tintin, first published on January 10, 1929! pic.twitter.com/GLAWMbheSP

— ComicsintheGoldenAge (@ComicsintheGA) January 10, 2020
His Adorable Partner!
Tintin, the young reporter famed for his exotic adventures across the world turns 91! 🎉

The character was created by Belgian cartoonist known as Herge, and first appeared in strip form in the pages of Le Petit Vingtieme – on 10 January 1929. pic.twitter.com/oBCA7ITRkJ

— Xavi Ruiz 🇪🇺 (@xruiztru) January 10, 2020
Tintin comics have sold more than 240 million copies worldwide and has also been translated reportedly to over 70 languages. The craze over the iconic comic book series will always remain, and we cannot be thankful enough to Herge for giving us so many memories and taking us to countries through his pen to experience the adventures of Tintin.