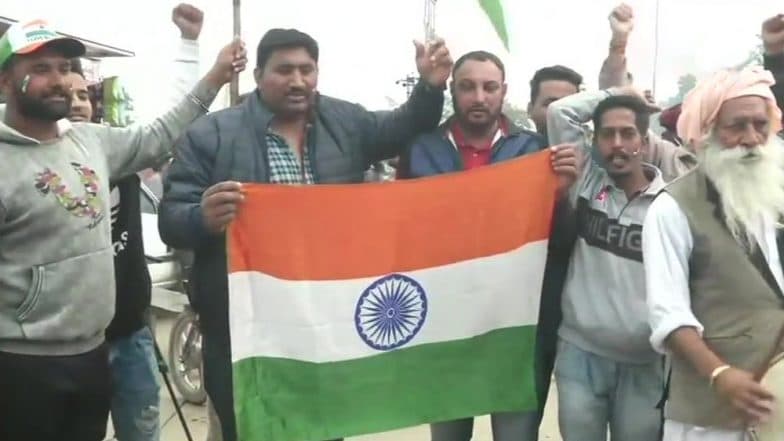 New Delhi, March 1: All eyes today are on the return of Wing Commander Abhinandan Varthaman's return to the country. After Pakistan PM Imran Khan announced that he will be released, everyone is awaiting his arrival. His parents too have reached Delhi to see their son. And passengers on the plane of Air Marshal (retd) S Varthaman and Dr Shobha Varthaman welcomed them with a standing ovation cheering for them. His parents took a late night flight yesterday to reach the capital. The passengers also made way for them to get off the plane first. IAF Wing Commander Abhinandan Varthaman's Return From Pakistan Live News Updates: Wing Commander Abhinandan Varthaman to Cross Over From Wagah Border Shortly.
The  Air Force fighter pilot was in Pakistan's custody from Wednesday. He will be released today via Wagah Border. Photos and video shared by the people on the flight showed how they were received by other passengers. The plane landed in Delhi an hour after midnight but the enthusiasm among the fellow passengers was clearly seen. IAF Pilot Abhinandan Varthaman's Release: Daily Retreat Ceremony Along India-Pakistan Border Cancelled, Says BSF.
Watch Video of Other  Passengers Cheering and Welcoming Wing Commander Abhinandan's Parents
Talking about his son, Retd Air Marshal S Varthaman, gave a message, "Abhi is alive, not injured, sound in mind, just look at the way he talked so bravely... a true soldier... we are so proud of him." His father is a recipient of several honours, including a Param Vishisht Seva Medal. Wing Commander Abhinandan was held by Pakistan Army after his fighter jet crashed in an air duel with a Pakistani F-16. He successfully shot down a plane before he crashed into Pakistani territory.
The tensions between the two nations were on a rise but as a sign of de-escalation, PM Khan announced he would be released today. Although he was supposed to be back by 2 pm today there is a slight delay in his procedure due to specific protocols.