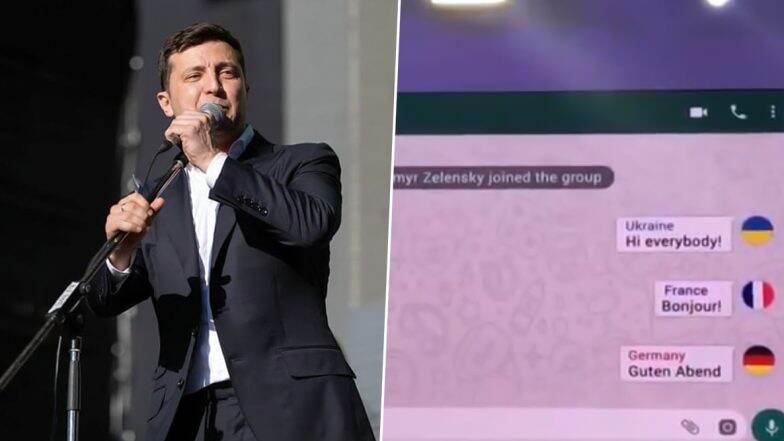 Talking about the world leaders, if anyone appears unusual is Ukraine's President Volodymyr Zelensky. The apparent reason behind the thought is his former profession—a comedian, screenwriter, director and now politically serving as the sixth President of Ukraine since May, 2019.  Recently, a video from YES Ukraine 2019 conference is surfacing on social media. It gives us a close and hilarious understanding of how it would have been if world leaders have a WhatsApp group chat. The video is a part of the presentation at the conference that Zelensky participated along with his former comic troupe. The short clip is going hilariously viral on social media platforms, especially Twitter and YouTube.
Ever since the time Zelensky was elected for the Presidential candidate, he has been continuously made the headlines. Despite many initially dismissing his candidacy as a joke, the 41-year-old made it to the new presidency tenure. The 16th Yalta European Strategy (YES) Annual Meeting was held from September 12 to September 14, 2019. Zelensky's presentation was a part of the evening entertainment format during dinner. It was supposed to be a light-hearted moment. Ukraine's President made this presentation as a part of his comic gig along with his former comic troupe, according to the netizens.
In the video, you can see the hilarious conversation that could happen if our world leaders would have a WhatsApp group chat. But who is the administrator? Well, you will have to see the series of videos shared on Twitter. It is fun to see Zelensky being his hilarious self.
Watch the Viral Video:
Part of the entertainment at #YESUkraine2019 tonight provided by Ukrainian President Zelenskiy's comedy troupe, Kvartal 95 — a WhatsApp group for world leaders: pic.twitter.com/WxPDog9Rot

— Christopher Miller (@ChristopherJM) September 13, 2019
Here's A Closer Look:
The President of Ukraine made a presentation at a conference, this was his opening...

Hilarious take on the global state of affairs.

Do watch.

Part I👇🏻 pic.twitter.com/gHA4LbV5W7

— Rema Rajeshwari IPS (@rama_rajeswari) September 21, 2019
The Second Part of the Video:
Part II👇🏻 pic.twitter.com/NsN2y2kp8d

— Rema Rajeshwari IPS (@rama_rajeswari) September 21, 2019
The 16th YES Annual Meeting was held at Ukraine's capital, Kyiv. Over 400 leading politicians, diplomats, businessmen, civil activists and experts from 26 countries took part in the conference. We are unsure as on which day during the meeting, Zelensky's entertained his guests with his political satire. But it has undoubtedly impressed the internet users online.