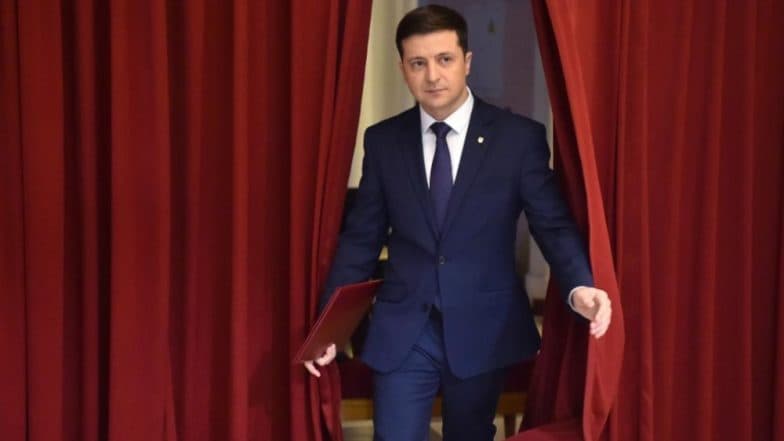 Ukraine is all set to get a young President in form of Volodymyr Zelensky, as the actor and comedian turned politician has won a run-off election to become the country's next president, suggests in the exit polls. Ukraine's incumbent President Petro Poroshenko concedes victory to TV comic Volodymyr Zelensky after exit polls.
Zelensky, who previously had played President in a TV show he acted in, has got more than 70% support and dominated the first round of voting three weeks ago when 39 candidates were on the ticket. Even he is ahead of incumbent President Petro Poroshenko, by a fair margin. Ukraine Presidential Elections 2019: Comedian Volodymyr Zelensky Leads Opinion Polls Ahead of 1st Round of Voting. 
The runoff vote which took place on Sunday, gave the 41-year-old star an upper edge to other candidates as his supporters, among the young electorates of the country, look for a change. This happened during Poroshenko's first tenure in 2014, who was elected after an uprising overthrew the country's previous, pro-Russian government.
Though Zelensky has no previous political experience, his campaign is focused primarily on his difference to other candidates rather than on any concrete policy ideas. Political observers had already given credit to Zelensky for his popularity among the people of Ukraine. Also, deep dispensation with the ruling establishment is working in his favour.
Earlier in January, incumbent President Petro Poroshenko had launched an uphill battle for re-election and Yulia Tymoshenko - rose to fame in 2004 during the anti-corruption Orange Revolution demonstrations - became her main opponent. However, comedian Zelensky is ahead of both Poroshenko and Yulia Tymoshenko in the poll that was being conducted today.