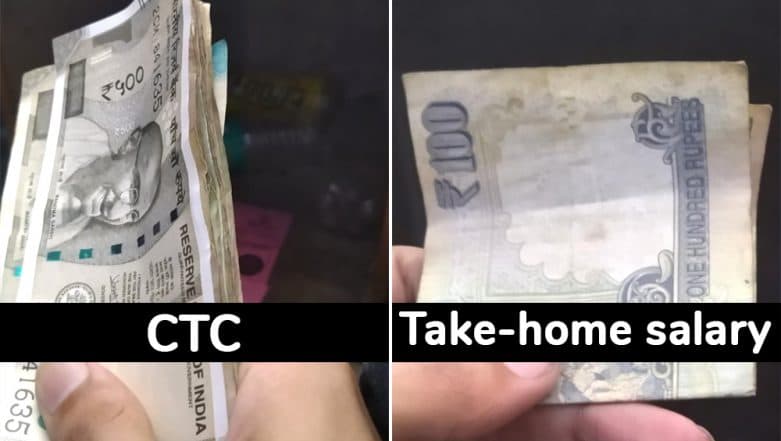 It's month end and so are 'poor' jokes on social media. Once again money memes are back on the internet with a bang. After #JCBKiKhudai memes, the newest meme to flood Twitter is money memes. The recent money meme shows a bundle of Rs 500 notes on one side a Rs 100 note on the other side. Meme makers have merged these pictures and coupled them with funny captions. For all those who believe that there is 'too much month at the end of your money', this meme perfectly sums up your life.
One of the captions says that the bundle of cash depicts your first day of salary while the second photo shows the last week of the month. As the pictures went viral, people took to Twitter saying how their bank account looks the same. JCB Ki Khudai Funny Memes and Jokes on Viral JCB Videos: 13 #JCBKiKhudayi Tweets That Will Make You Laugh Out Loud.
Check out the funny tweets below:
Pic 1: What you want to withdraw from ATM

Pic 2: What you actually withdraw pic.twitter.com/N53ako9EcT

— Rishabh Srivastava (@AskRishabh) May 29, 2019
HAHAHA
CTC vs The actual salary pic.twitter.com/MHEvWRnLA3

— Abhinav Rai (@abhinavrai327) May 29, 2019
Poor bank
Bank to me vs me to bank pic.twitter.com/JvbgAZhb8o

— Chowkidar Nirav Modi (@niiravmodi) May 29, 2019
Students' association is going to make this meme their logo
Education loan vs Campus Placement pic.twitter.com/A7dpY8pgAI

— Rofl Gandhi (@RoflGandhi_) May 29, 2019
If only conveyance charge didn't exist
Flight tickets at the time of Booking

Vs

Payment page. pic.twitter.com/zJWVjpBUsS

— Kamran (@kamrank) May 29, 2019
Moms are the same everywhere
Pic1 Shopkeeper: Ye saman itne ka hai..

Pic2 Mom: Itne may de do.. pic.twitter.com/aApKwlvkUe

— Romz (@RomanaRaza) May 28, 2019
Why mom why?
1. Money gave to mom given by relatives

2. Money that mom return me

— sachin🏏🏏 (@imsachin100) May 28, 2019
Broke since birth
Salary for fresher :-

Expectation Reality pic.twitter.com/Cx7gYCwmvO

— Sarcastic arpit (@Sarcastic_broo) May 29, 2019
Every salary account ever
Pic 1: Salary Credited..

Pic 2: After 3 Days.. pic.twitter.com/qgiViKPuLd

— N I T I N (@theNitinWalke) May 29, 2019
Problems of shopaholic
My shopping budget vs actual shopping.#MoneyMeme pic.twitter.com/zh90u55WDt

— Gargi Garg (@garggargi2) May 29, 2019
Money meme seems to be next big meme internet users have got addicted to. Earlier #JcbKiKhudai had flooded social media with desi meme makers churning out various memes over the fact that randoms videos of JCB machines digging grounds had thousands of views on YouTube.