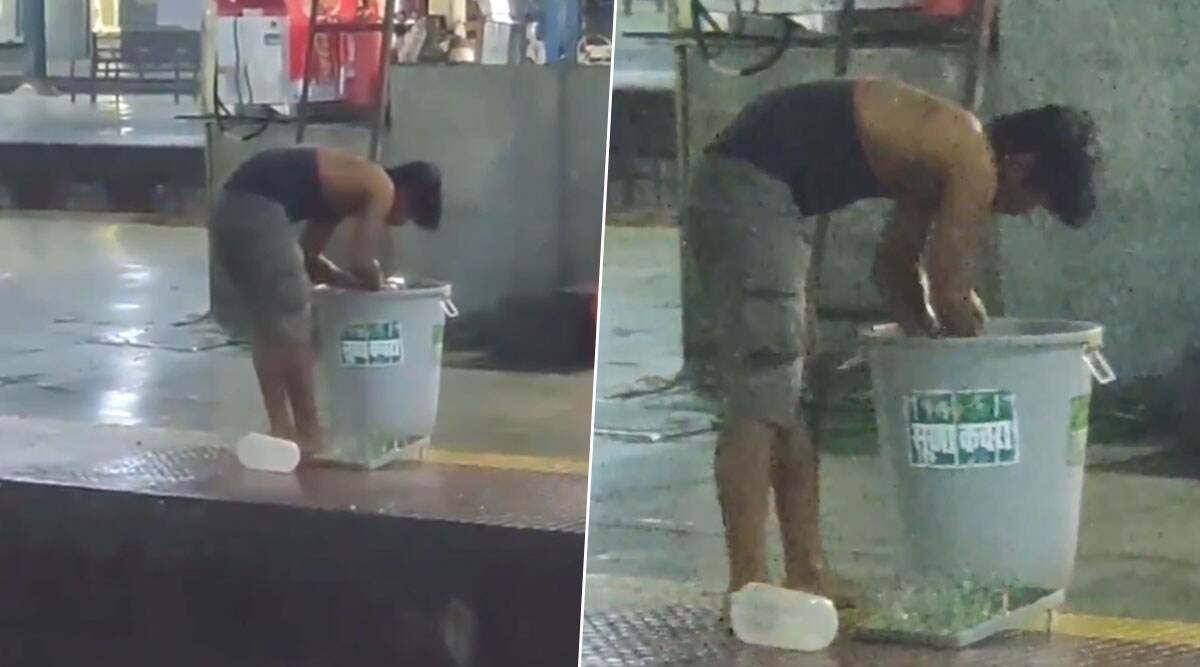 Mumbai, December 20: Months after a railway canteen employee was caught on camera making lemon juice in unhygienic condition at Kurla station in Mumbai, another similar incident has surfaced from Thane railway station on Friday. In a video that went viral on social media, a man is seen washing used tea cups in a dustbin which is meant for dry waste. A close look at the video shows a sticker on the dustbin stating 'Sukha Kachra' (Dry Waste). The man is seen washing the tea glasses in the dustbin and then placing it on the tray kept on the platform.
According to a tweet shared by a Twitter user, the incident took place at platform number 6 of Thane station. The tweet states that as the video progresses, the man is also seen washing a vest in the same trash bin. As soon as the incident was shared on social media, the matter was immediately   notified to the concerned official. The twitter user, who goes by the handle @mandar2005 on Twitter also tagged Central Railway Administration, Ministry of Railways and Union Railway Minister Piyush Goyal, demanding strict action into the incident. Rat Water Video Of Bandra Railway Station Goes Viral Days After Kurla's Nimbu Paani Episode.
Here's the Viral Video:
@Central_Railway @drmmumbaicr @RailMinIndia @PiyushGoyalOffc @PiyushGoyal @ShivajiIRTS ठाणे प्लॅटफॉर्म नंबर 6 वर सूखा कचराच्या बादलीतल्या पाण्याने चहाचे ग्लास, गंजी.. धुताना एक व्यक्ति दिसते आहे.

(वीडियो चा आवाज ऐकून बघा).https://t.co/hy6c2lHHaw@AmhiDombivlikar @kiran_mestry pic.twitter.com/2OnXhbfbI4

— Mandar D. Abhyankar™🇮🇳 (@mandar2005) December 20, 2019
In March this year, the Central Railway had banned sale of lemon juice and other syrup-based juices at food stalls under its jurisdiction after a viral video of such a drink being allegedly prepared in unhygienic conditions went viral on social media. According to reports, the person was also seen squeezing lemons in a drum and stirring the mixture with his bare hands.