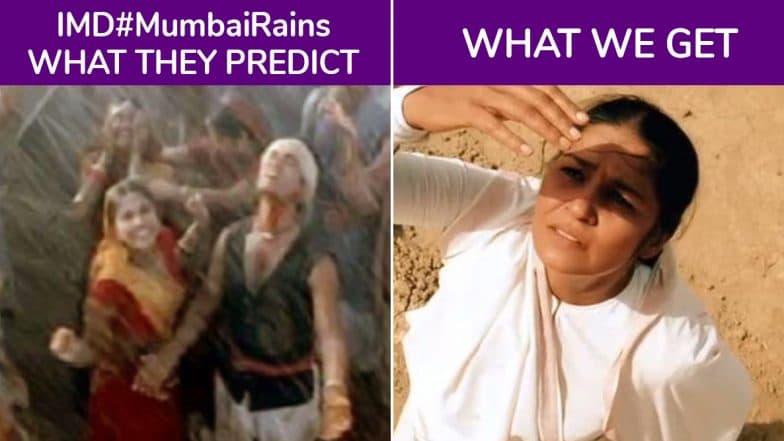 All schools and junior colleges in Mumbai and neighbouring areas were declared closed today after the weather office forecast "extremely heavy rainfall." But the prediction seems to be a damp squib. The Indian Meteorological Department (IMD)'s prediction for today, September 19 did not go well. The entire day, we had no rainfall, not even slight drizzle. Social media was quick to take digs at the IMD with users sarcastically commending them for coming to the city's rescue with wrong speculations. With the end of the day, comes hilarious memes and jokes. Twitterati hilariously trolls the weather department for inaccurate rain forecast yet again.
Late night on September 18, the weather office issued a red alert indicating "extremely heavy rainfall" for Mumbai and neighbouring Raigad. Taking a note on the weather prediction, a holiday was declared for all schools and junior colleges in Mumbai, Thane and Konkan region. Besides, people were advised to stay safe and plan their day accordingly. Everything went well, aside from the predictions. The whole day, no parts of Mumbai reported heavy shower. Netizens were quick to come up with many hysterical memes and jokes, targeting IMD's weather predictions.
Dry Day in Mumbai:
Today is "dry day" in Mumbai! No rain! #MumbaiRains #Mumbai #MumbaiRainsLiveUpdates #MumbaiRainlive #mumbaifun #MumbaiRainsLiveUpdate

— Sankha Ray (@Sankharay) September 19, 2019
Sometimes, Yes!
IMD #MumbaiRains

What they Predict What we Get pic.twitter.com/ezVLCr8W3Q

— BakJoe (@JyoET) September 19, 2019
LOL
The rain gods and our state education minister have a Vikram- Betaal sort of relationship. Whenever he declares a holiday due to heavy rains.. the rain gods say "Tu bola... Aur main chala"

😂😂😂 #MumbaiRains

— Maanmohan Singh Pahujaa (@msgpahujaa) September 19, 2019
So Are We!
Not even a drizzle! Am confused if I shud be happy or annoyed. 🙄🙄🙄#MumbaiRains

— Psycho the logist (@Lakshmi_Sreeni) September 19, 2019
Mumbai ki Baarish:
Dear Mumbai Rains,

I waited for you today! But you ghosted me! I was carrying a umbrella but instead sun showed up! Pasine mein itna bhig gaya jitna barish mein nah bhigta! Aise kaun karta hai?

Truly yours

Mumbaikar#MumbaiRains #MumbaiRainlive

— Schezwan Chutney (@SchezwanC) September 19, 2019
This is not the first time that IMD's predictions went wrong. In July as well, Twitter was flooded with posts pointing out the fallacy of Met Department predictions. And today, September 19 seems to be the driest day this far. Weather agencies around the world are equally prone to errors, and it is understandable. IMD's weather speculation for today was not entirely wrong as late evening some parts in Mumbai did experience rainfall. Though there is scattered rain across the city, the intensity is relatively mellow compared to the recent past.