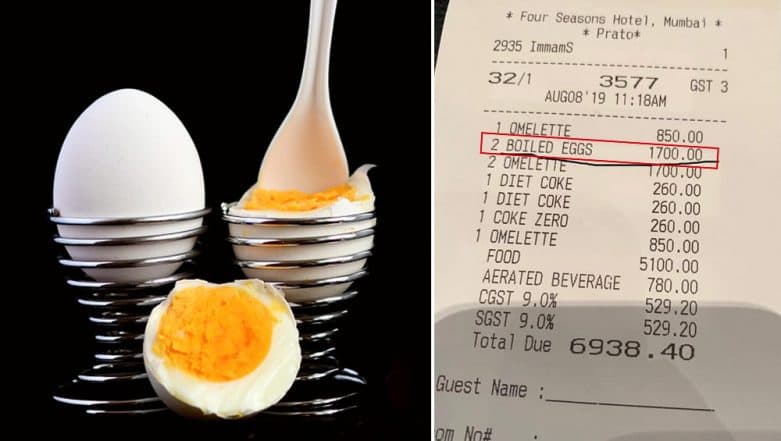 While the banana controversy spearheaded by actor Rahul Bose remains fresh in the minds of social media users, another 'unjustified' billing system of a high-end hotel is going viral on social media. After Chandigarh's JW Mariott, it's Mumbai's Four Seasons Hotel that is facing the wrath of social media. The bill shows the cost of two boiled eggs as Rs 1,700! Two omelettes have also been priced at the same cost. Twitter user Kartik Dhar took sharing a photo of the bill with the caption, "2 eggs for Rs 1700 at the @FourSeasons Mumbai. @RahulBose1 Bhai Aandolan karein? (Shall we protest?)" Rahul Bose Banana Tweet: Probe Ordered Against Hotel JW Marriott Over Exorbitant Price.
While Rahul Bose's tweet on two bananas costing Rs 442 kickstarted conversation on unjustified billing system of high-end hotels, Federation of Hotel & Restaurant Associations of India (FHRAI) came out in support of JW Mariott. The hoteliers' association justified the billing and said that the hotel did nothing "illegal". In a statement, FHRAI Vice-President Gurbaxish Singh Kohli said that the 18 per cent GST levied by the hotel on Bose's bill was "a legal requirement incumbent upon the hotel". However, social media users criticised the billing system and demanded a change in such pricing. But with FHRAI's stand on the issue, the topic seems to have died down. Twitterati Share Their Hilarious 'Rahul Bose Moment', After Video of the Actor Ranting JW Marriott's Bill for Two Bananas Goes Viral.
Check Out Mumbai's  Four Seasons Hotel's Breakfast Bill:
2 eggs for Rs 1700 at the @FourSeasons Mumbai. @RahulBose1 Bhai Aandolan karein? pic.twitter.com/hKCh0WwGcy

— Kartik Dhar (@KartikDhar) August 10, 2019
While hoteliers associations supported JW Mariott, a section of the hotel industry remained stunned at the pricing. Chefs and people from the hospitality industry said that the cost cannot be justified. Meanwhile, Rahul Bose's banana controversy became a hit among brands. Pizza Hut, Amazon Prime, Oyo Rooms tickled the funny bone of social media users with their creative tweets. They also received a thumbs up for the quirky brand moments.