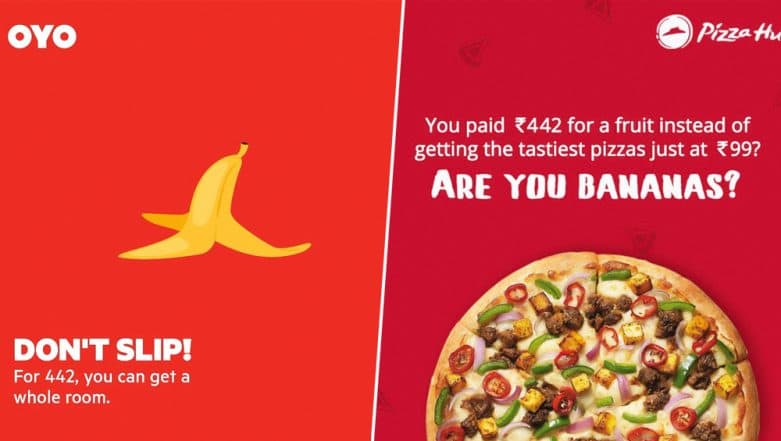 Mumbai, July 30: There has been a lot of noise on social media after actor Rahul Bose tweeted about being charged Rs 442.50 for two bananas at Hotel JW Marriott, Chandigarh. Brands saw this as a great opportunity and decided to make the most out of Rahul Bose's 'banana moment'. JW Marriott Hotel in Chandigarh Fined Rs 25,000 For Levying GST on Bananas Ordered by Actor Rahul Bose.
From Pizza Hut, Amazon Prime, Oyo Room, and other brands had a hearty laugh on social media by posting quirky creatives and taking a dig at JW Marriott's situation. Competitor Taj Hotels also didn't want to miss the fun and they too had something special planned for their guests.
Below are the creatives which brands pushed out on social media. The creatives are smart and should be applauded for their timely launch to gain the attention of the users.
Pizza Hut
Eat pizzas🍕 like a bose!#TastiestPizzasAt99 pic.twitter.com/wgdzXpZAqk

— Pizza Hut India (@PizzaHutIN) July 25, 2019
Natures Basket
With us, you will always get your bananas at #PricesYouWillLove #RahulBoseMoment pic.twitter.com/xjMgDw6JoL

— Natures Basket (@NaturesBasket) July 25, 2019
Amazon Prime
prime subscription is just Rs. 129 per month btw 👀 pic.twitter.com/oqzA81ssan

— amazon prime video IN (@PrimeVideoIN) July 25, 2019
Oyo Rooms
Nobody told us that ₹442 was the cost of #bananas. All this while, we've been selling rooms at that cost. 🤔🙄#RahulBose pic.twitter.com/HOrk1YXsCK

— OYO (@oyorooms) July 26, 2019
Taj Hotels didn't want to miss the fun
Meanwhile, in the land of trolling JW Marriott.... pic.twitter.com/ipGEZILQ4s

— Deepak Shenoy (@deepakshenoy) July 25, 2019
Rahul Bose had raised a complaint against JW Mariott on social media, where he uploaded a video to mark his angst against the hotel for charging Rs 442 for two pieces of banana.
In a recent development to the news, the excise authorities in Chandigarh have cracked their whip on the luxury hotel which had levied GST on two bananas ordered by a customer. Under the Goods and Services Tax Rules, fresh fruits are exempted from taxation. For violating the norm, the hotel was slapped with a fine of Rs 25,000.