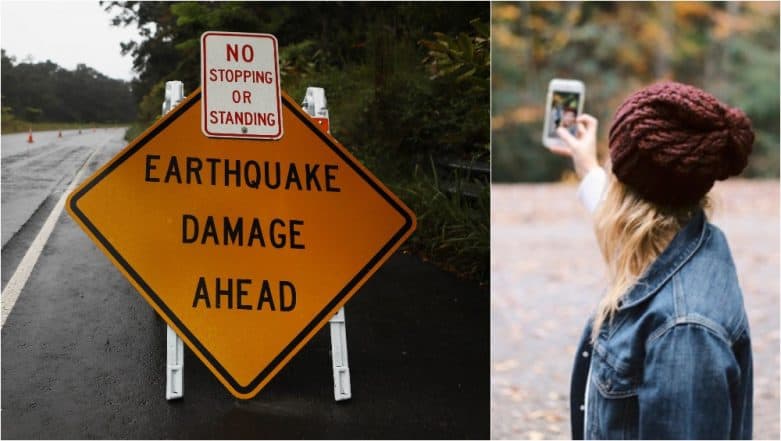 As earthquakes measuring 7.0 and 5.7 shook Anchorage in Alaska and surrounding regions, authorities have urged selfie lovers to stay away from roads. Following the massive earthquake, Alaska State Trooper spokesman Jonathon Taylor on Tuesday has advised people to not climb atop rubbles and cracked roads for selfies. After the shook, many took to social media sharing pictures of roads in Wasilla north of Anchorage, Jonathon said.
To keep people away from the cracked roads, signs and barricades have been set up. Jonathon said that crews using heavy equipment have started construction on the road drawing large crowds of spectators. He said he believes nobody has been hurt yet, and doesn't want anyone to go near the affected regions or click selfies just for uploading on social media. Back-to-back Earthquakes Shatter Roads and Windows in Alaska.
Pictures of Alaska earthquake:
I hate earthquakes. This 7.0 and the billions and billions and trillions of aftershocks that never end. NOBODY IS SLEEPING #earthquake2018 #alaskaearthquake #AlaskaEarthquake2018 pic.twitter.com/N63ZSJsQNC

— Ell Ruks (@EllRuks) December 5, 2018
Taylor said, "It looks sort of like shattered pieces of glass, if you will, from above, which makes a very fascinating visual. But it is also unsafe to be there." Taylor said the place is not safe with many aftershocks occurring after the centre point earthquake just 11kms north of Anchorage. The aftershocks of 5.7 magnitudes arrived within minutes, followed by smaller quakes. Anchorage is Alaska's largest city, with a population of about 300,000.
Before and after photos of Alaska earthquake:
It's amazing what 72 hours can do after a major earthquake in Alaska. pic.twitter.com/kgJzVcmDCS

— Iowa Traveler (@Westguytravel) December 5, 2018
During the shaking, several cars crashed at a major intersection in Wasilla, north of Anchorage. The earthquake also collapsed a large section of an off-ramp near the Anchorage airport. It broke store winds, brought things down the shelves, affected electrical lines and traffic lights and cracked buildings. Alaska witnesses an average 40,000 earthquakes a year and the site of the most powerful earthquake ever recorded in the United States. The state witnessed a 9.2-magnitude quake on March 27, 1964, triggering a tsunami killing 120 lives.