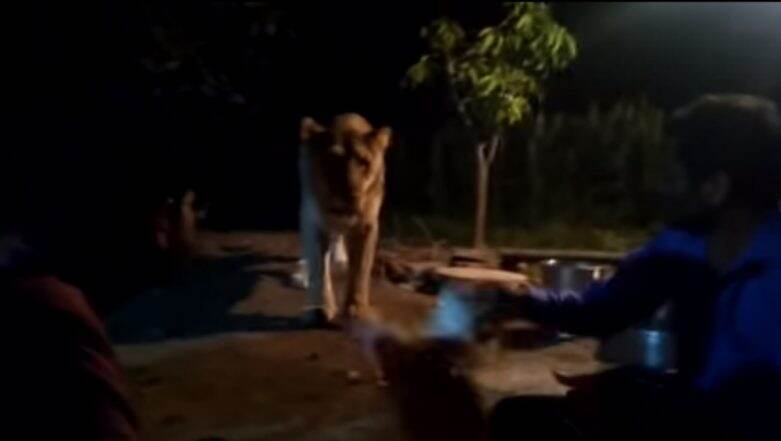 A video clip has been going viral over social media for a rather shocking behaviour displayed by humans towards the wild animal, an Asiatic lioness. Known as 'Gujarat's pride,' the video has nothing to be proud of. It instead shows locals of Gir harassing a hungry lioness by throwing a bait at her and enjoying her desperate attempts to grab it. The video footage is scary and gives an evidence of the illegal shows carried out in Gir Gadhada taluka in Gujarat's Somnath district.
Locals have been harassing the lions and seven persons have been arrested from whom the video clips were found. The video shows two persons, one of whom has a hen in his hand. A lioness is standing at a short distance and these people are seen partying. The person is continuously teasing the lioness by pretending to throw a hen while the lioness is helplessly tempted. At one point, the friend asks the other guy to make it roar. The lioness is seen coming closer to the man but he proudly quips that he is used to this 'daily routine' and not scared of it anymore.
Check out the video of man teasing the lioness in Gir forest:
The video also shows the constant teasing to the lioness, while the woman is seen warning the men that it may attack. The men then throw the hen to the lioness and she walks away. Chief conservator of forests, wildlife, D T Vasavada, however, said it could be a routine even for the lions. He said, "This video and several others were recovered from the mobile phones of seven people arrested last month for illegal lion shows in Gir-Gadhada. The fact that the lion is not attacking the perpetrators despite being harassed and coming so close shows that such activity is routine for them. The lions might be used to getting food in this manner." Gir National forest is a home to these Asiatic lions. Similar videos have been seen in the past and just a month on May 19, back people were arrested for the illegal lion shows.