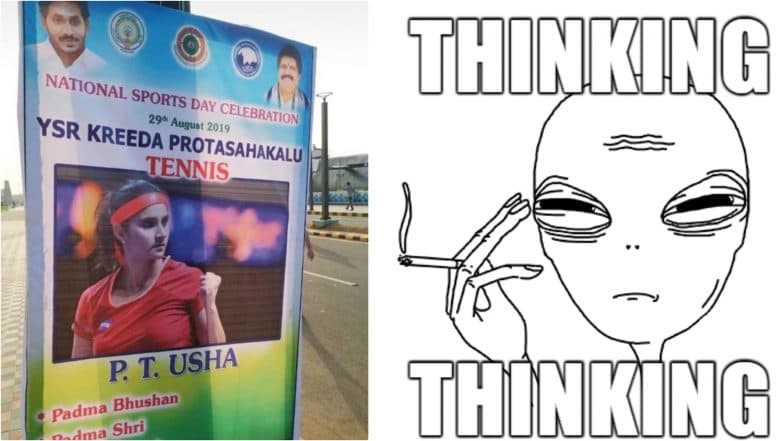 Visakhapatnam, August 29: In a gaffe that left the city red-faced, the organisers of National Sports Day celebrations here mistook P.T. Usha for tennis star Sania Mirza and erected a poster with a photograph of the latter bearing the name of the legendary athlete. National Sports Day 2019: Here Are Interesting Quotes of Some Incredible Indian Sportspersons.
The poster, put up near the Submarine museum on Beach Road, went viral on social media as people were left in splits. It also underlined the lack of basic awareness.
Chief Minister of Andhra Pradesh Y.S. Jagan Mohan Reddy had announced cash awards for sportspersons who won medals at the national level in the name of 'YSR Kreeda Protasahakalu' and it was also decided to organise functions on the occasion of National Sports Day.
What Gaffe!!
Sania mirza @MirzaSania is called PT usha in Andhrapradesh

🙄🙄🙄

Such ignorance level of Ap government ?? pic.twitter.com/65SEkEb1fm

— Kiran (@kirankonnects) August 29, 2019
What Were They Thinking??
Eme Peru PT Usha na 🤔

Neninka sania Mirza anukuna 🤕🤕 pic.twitter.com/Q7GOOaTTNv

— Ramya pspk 🕉 (@___Ramya_kalyan) August 29, 2019
Embarrassing Mistake
People : Bhai this is Sania Mirza not PT Usha.

YSR Party : 👇👇 https://t.co/erkcaR09yd pic.twitter.com/x8WPfeKSO1

— Soul of India (@iamtssh) August 29, 2019
What Can One Say About This
Ap government doesnt know the difference between Sania mirza and PT usha

Such a shame on the ycp government.#NationalSportsDay pic.twitter.com/oPJrCMemMP

— Kiran (@kirankonnects) August 29, 2019
But the howler left everyone embarrassed as it soon caught the glare of the public and was shared heavily on social media.