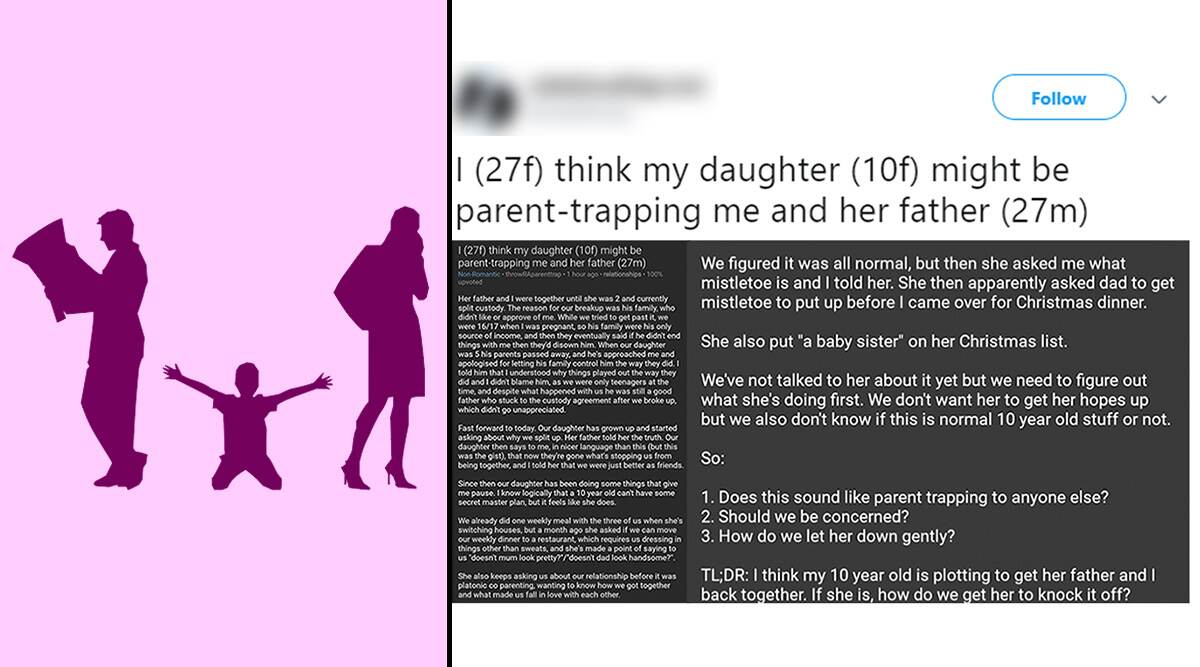 It is never a smooth journey for parents who got separated because of their lack of compatibility or many other reasons. And the most challenging part is to make their child cope with this fact. It is a dream of many kids and the theme of many movies that somehow, their Mom and Dad will remember why they fell in love and get back together. Everything will be wonderful again! Real lives cannot always have 1998 The Parent Trap 'happy ending'. But a kid may have taken things to a new extreme. Her mother just recently took to Reddit which was eventually uploaded on Twitter, worrying that the 10-year-old girl might be plotting something. And that means re-unison of her with ex-husband. The tweet of the worried mother has gone viral. Man Files For Divorce to Allow His Wife to Marry Her Boyfriend Whom She Couldn't Marry Due to Family Pressure. 
"I (27f) think my daughter (10f) might be parent-trapping me and her father (27m)," mother posted. The mother explains that while she and her daughter's father are good friends and co-parents, they have not been together as a couple ever since their child was two. And they are happy that way. She revealed that both were a teenager when they became parents to a lovely girl. But his parents did not like or approve of her, which is why their marriage didn't work out, and they decided to separate. Husband Finds Out His Son Is Not His Child, Demands 'Every Penny' Spent From His Cheating Wife. 
The mom of 10-year-old also mentioned that the father has always been an involved parent. But in their recent meetings as 'family' lunch, the mother realised that the girl has been behaving little odd. She appears to be scheming. From dropping hints to each parent how nice the other looks to going out at restaurant all dressed up, instead of a weekly dinner at home, all these acts of the girl is worrying the mother. The girl even put a "baby sister" on her Secret Santa wish.
Here's the Post:
I (27f) think my daughter (10f) might be parent-trapping me and her father (27m) pic.twitter.com/gEyfwVKpJr

— relationships.txt (@redditships) December 31, 2019
Many people advised her and even noted that such behaviours among kids are common. And that the mother should not be worried but confront and comfort her before it gets too late. It might take a while, but we hope that the child will get the message.