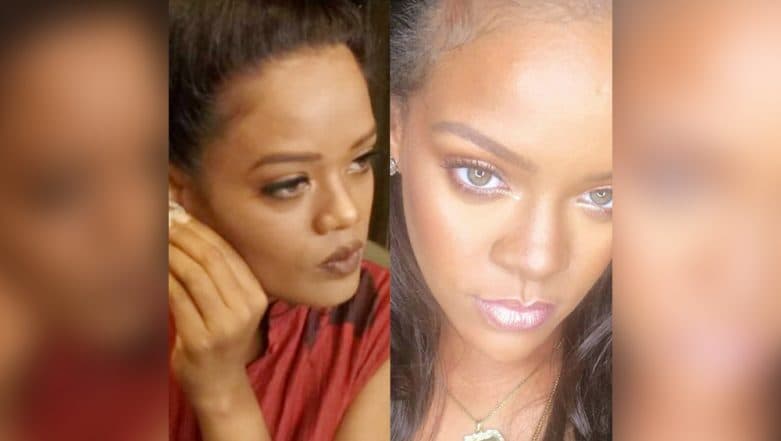 Twenty-three-year-old Renee Kujur has had to endure colourism all her life, owing to her dark skin tone. But today, she has learnt to put it all behind her, thanks to her new-found fame as Rihanna's doppelganger. The young model who originally belongs to Chattisgarh bears a striking resemblance to the Barbadian beauty and R&B superstar Rihanna, a fact that Renee takes immense pride in. Everything from her eyes to her pout to her skin makes us wonder if these two were separated at birth. Look at some of her pictures if you don't believe us.
The Resemblance is Uncanny
It's hard to miss how her features bear a striking resemblance to the Barbadian superstar Rihanna.
I mean, you have to be blind to not see the similarity.
Renee or Rihanna?
Life was tough for Renee who, despite her striking beauty, was subjected to a lot of ridicule thanks to Indians and their derision for darker skin colours. She reveals that she was called by derogatory names like kaali and was considered unattractive by many. In an interview with the HT, the model reveals of her initial days of struggle. She faced rejection after rejection due to her unconventional beauty. She confesses that she was constantly made to feel inadequate.
Her lack of fluency in English also didn't help either. She also said that a lot of her pictures shot for modelling assignments were manipulated to make her skin look lighter than before. She was also propositioned by many in the industry for sex in return for favours. "They told me all models are into prostitution. I wouldn't become a model unless I pleased the clients. Being dark had already killed my chances," she recollects.
But things changed when photographers started drawing comparisons between her and Rihanna. Although she initially laughed it off, more and more people began likening her to the R&B star. And today, it has become her USP. The young girl has carved a niche for herself in the modelling circuit. Her Instagram page bears testimony to the fact that she's been landing both runway and print projects. And Renee  thanks one person for her turn of fortune – the Barbadian beauty herself, Rihanna, whom she hopes to meet in person one day. She tips her hat to her doppelganger in her Instagram handle badgalrenee, inspired from Rihanna's own -- badgirlriri.