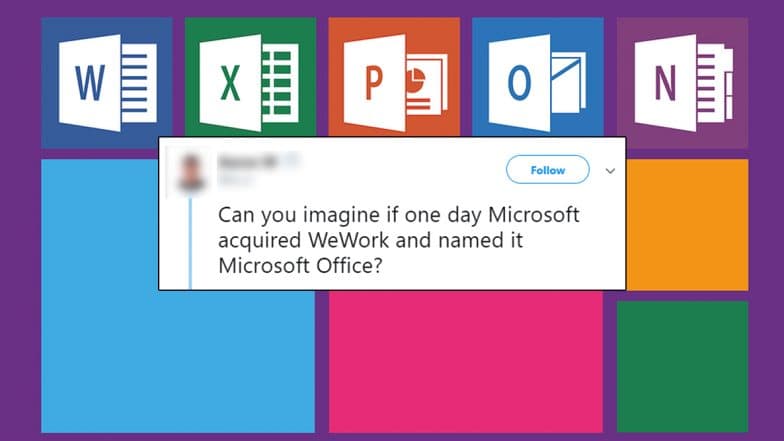 Social media is a fun place, especially Twitter where you cannot really predict what goes viral. Sometimes, the silliest of tweets can get the maximum reactions and make it go viral instantly. A certain tweet by a Microsoft advocate joking on the company acquiring WeWork, to install its own office has got people talking. If you love a good pun game, then this tweet and the reactions it has got has some of the best puns. 'How Does the Rock Pee?' Hilarious Pun on Dwayne Johnson's Name Will Make You Lose Bladder Control With Laughter (View Tweet).
Twitter user Aaron W who works in Microsoft started with a punny tweet in which he joked on Microsoft Office, as the company getting a workspace in general. Twitterati who is always up for good puns were quick to pick up on his tweet and had some of the best reactions, using all the apps and services of Microsoft. The tweet is now going viral with the number of fun reactions it has got and over 18,000 likes. Type 'I am Marrying' and Let Your Keyboard Reveal is The Latest Twitter Trend and Autocorrect Answers Are Hilarious (Check Funny Tweets).
Check The Viral Tweet here:
Can you imagine if one day Microsoft acquired WeWork and named it Microsoft Office?

— Aaron W ☁️ (@as_w) September 13, 2019
While he just started with Microsoft Office, Twitterati was quick to join in with their suggestions. Check some of the punniest reactions on this viral tweet.
Suite Space or MySpace?
that would be suite

— dansickles (@dansickles) September 14, 2019
I WAS THINKING MYSPACE

— Christopher Kusek (@cxi) September 14, 2019
Taglines Are Here
I can Azure you they will take Note, pad the bottom line. The Skype's the limit!

— Adam Richardson (@richardsona) September 14, 2019
Keep 'em Coming
To get inside you'd need Microsoft Access.

— Adam Barker (@_adam_barker) September 13, 2019
Drives Are Here Too!
Question is - how far do OneDrive to get to this office with windows?

— KenOnKM (@KenOnKM) September 14, 2019
What's the Point? Powerpoint!
That's the PowerPoint to focus on.

— Hanish Satija (@hanunited10) September 14, 2019
Nice Outlook Mate
I like this Outlook

— Jamie Pastore (@jamiepastore) September 13, 2019
Much Scope for Excelling!
You would Excel in that office!

— Ramakuru Nirant (@nirantr) September 13, 2019
The tweet got so many Microsoft puns that someone even commented that the thread should be read by some publisher. Well, that is the beauty of this platform. People just joined in and several others just loved the pun game that was going on, obviously impressed. If you are a lover of puns, then you should be definitely digging this tweet!