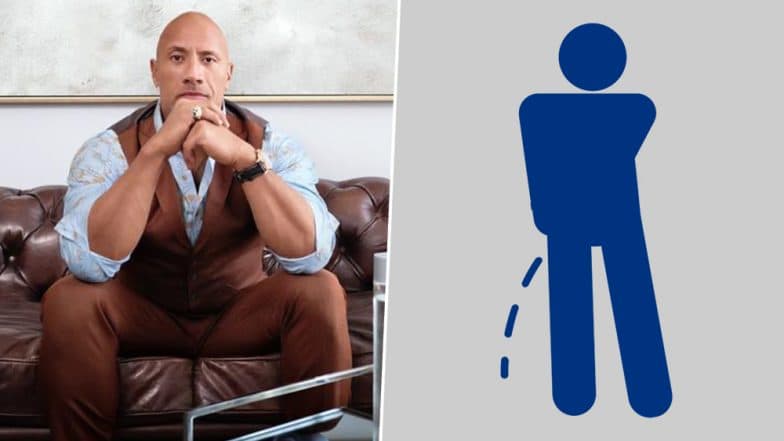 Dwayne Johnson, aka The Rock, recently got married to his long-time beau Lauren Hashian on August 19, 2019. After the gorgeous wedding pictures flooded on social media, a meme about Johnson's peeing style has been taking over the internet named "How Does the Rock Pee?" What's even more hilarious is that the meme was shared by Rock himself. The smart pun on his name will make you lose your bladder control with laughter, only if you get it. "Dwayne" is a rhotacistic way of saying "drain" and "Johnson" is a vulgar slang for penis. The viral tweet featuring is cracking up the internet for all the right reasons. Who Is Lauren Hashian? 5 Things You Need to Know about Dwayne Johnson's Wife. 
The Rock had earlier revealed through an Instagram post that he's not afraid to pee in a water bottle while working, if such a situation arises. While his millions of fans speculated how he would do that, the recent viral meme seems to have the answer. It says, "He Dwaynes His Johnson," to urinate. And the Rock "can vouch for this."
How Does the Rock Pee?
I know the big man personally, so I can vouch for this 🤣💧

— Dwayne Johnson (@TheRock) August 20, 2019
Fans Can't Stop Their Laughter:
Well we won't want to be smelling what the rock is dripping 😂

— Matt Doy (@MattDoy) August 20, 2019
It Inspired More Memes!
Missed the perfect opportunity to say "can you smell what the rock is cocking"

— 𝓐𝓼𝓱𝓵𝓮𝔂 (@edgarallanahoe) August 20, 2019
Such a good sport.😁

— Diandra Conn (@ConnDiandra) August 21, 2019
The revelation of The Rock's peeing secret is the next viral thing online. On a different note, Johnson's wedding to Lauren Hashian is the talk everywhere.
After being together for 12 years and raising kids together, Dwayne and Lauren thrilled fans by sharing pictures of their highly secretive nuptials. The happy couple appeared in the news since 2007 and have two daughters – Tiana and Jasmine – together.