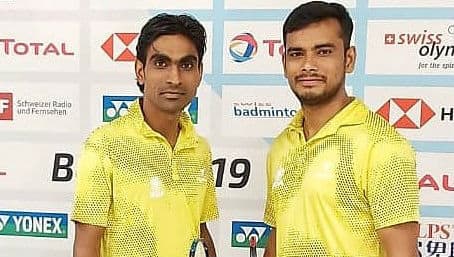 Basel, August 25: World No. 1 Pramod Bhagat made a strong comeback to defeat England's Daniel Bethell and clinch his third Worlds title in men's singles SL3 category at the BWF Para Badminton World Championships here on Sunday. It was Bhagat's second title in this Championship, after having won the men's doubles SL3-4 encounter on the penultimate day of the competitions. Bhagat and his partner Manoj Sarkar came from a game down to defeat compatriots Nitesh Kumar and Tarun Dhillon 14-21, 21-15, 21-16 in the final. BWF Para Badminton World Championships 2019: Worlds Title a Dream Come True, Says Manasi Joshi.
Overall, India finished with 12 medals, including three golds. Though the total number of medals is same as in the 2015 World Championships, back then India had four gold medals, making it the best ever show.
Manoj Sarkar of West Bengal Won the Doubles Title:
The Indian pair @PramodBhagat83 from Odisha & Manoj Sarkar of West Bengal won the doubles title of the BWF Para-badminton World Championships 🏆 for the second time (2013 & 2019), Congratulations @Naveen_Odisha @NewIndianXpress @SulochanaDas1 @YugaYatri @Media_SAI @BAI_Media pic.twitter.com/OBM1fiACt9

— Tanmay Das (@tanmay__das) August 25, 2019
On Sunday, Bhagat bettered his winning record against Englishman Bethell to 3-1 this season with a 6-21, 21-14, 21-5 scoreline in the final that lasted almost an hour. Unlike the first game, Bhagat relied more on his rallies and half smashes to emerge winner in the next two.
"I took time to find my rhythm and thus started slow in the first game. But in the second game, I increased the pace and tried controlling the match. I have played Bethell many times, so I knew it will be a tough match. I am happy to finish on the winning side and take my third singles gold," Bhagat told the Paralympic Committee of India.
With this win, his sixth singles gold this year, Bhagat also extended his stronghold in the SL3 category and has almost made the qualification cut for the 2020 Tokyo Paralympics. Sai Praneeth Settles for Bronze After Defeat to Japanese World No 1 Kento Momota at BWF World Championships 2019.
Odisha CM Naveen Patnaik Congratulations Star Shuttler Pramod Bhagat:
Congratulations to #Odisha's star shuttler @PramodBhagat83 on winning the men's doubles gold (SL3) at BWF Para-Badminton World Championships 2019. You have done #Odisha proud once again. Best wishes. #TOTALBWFWC2019 #Basel2019 https://t.co/O3cIc8XWt2

— Naveen Patnaik (@Naveen_Odisha) August 25, 2019
In the men's singles SL4 final, Tarun was forced to retire with a twisted leg midway the first game against France's world No. 1 Lucas Mazur. The Indian was leading 14-13 when he retired hurt and settled for his second silver in the championships.
On Saturday, Manasi Joshi had clinched her first World Championships crown, overcoming experienced compatriot Parul Parmer 21-12, 21-7 in the women's singles SL3 final.