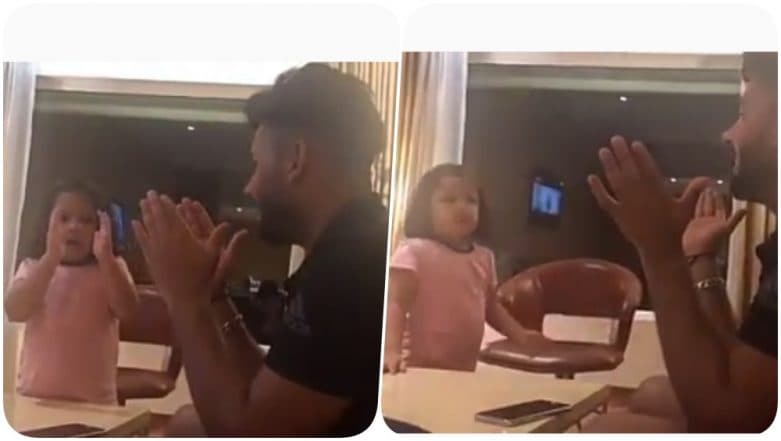 MS Dhoni is known to be a great teacher. Very often he is seen sharing batting and wicket-keeping tips with the upcoming cricketers. The videos of his masterclasses have gone viral. Yesterday, MS Dhoni after the Qualifier 2, IPL 2019 match against Delhi Capitals was seen sharing tips with Rishabh Pant. Post this, we stumbled upon a video where MS Dhoni's daughter Ziva was seen donning the role of teacher for Delhi Capitals' wicket-keeper Rishabh Pant. CSK beat DC by 6 wickets. 
Ziva was seen teaching Hindi alphabets to Rishabh Pant in an adorable video. Like a very good student, repeated every alphabet and thanked his teacher by the end of the video. But Ziva like a diligent teacher also pointed out that Pat had missed out on one of the alphabets. We do not know how new the new is, but the clip is quite adorable. MS Dhoni Plays with Ziva & Gracia After CSK vs DC, Qualifier 2 (Watch Video).
Check out the video below:
Over the years, Ziva has caught the attention of the fans by her cute antics. Whether it is greeting her father MS Dhoni in different languages or cheering for the Chennai Super Kings, the little one has always grabbed attention and very often makes you go awe in adulation. Yesterday, after Chennai Super Kings won the game against Delhi Capitals by six wickets, Ziva ran to the ground after the conclusion of the presentation ceremony and was seen chasing her father. MS Dhoni also was in a playful mood and was seen dodging her.