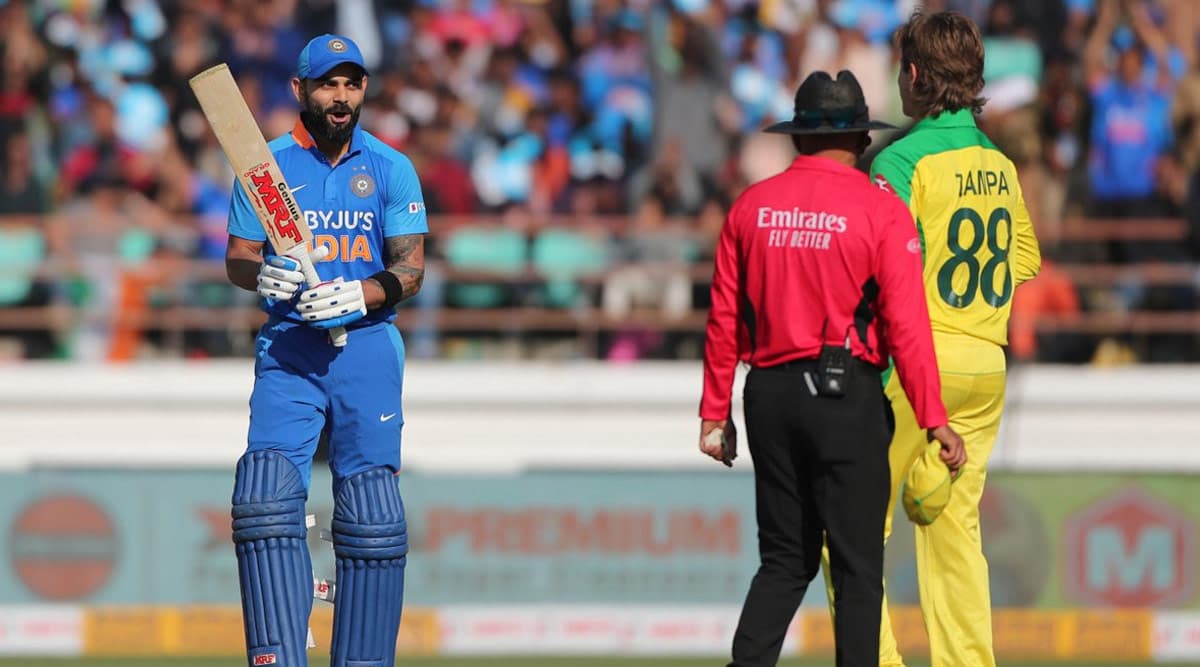 India and Australia will fight for the final hurray in the 3rd and final ODI match, with the series reading 1-1 before the encounter at the Chinnaswamy in Bengaluru. In a do-or-die clash in Rajkot after the shocker at Mumbai, India showed class, temperament and ingrains of a top, world-class team. India's ability to bounce back is unquestionable but so is Australia's – remember the 3-2 ODI series victory last year – and therefore the series decider at Bengaluru promises to be more than just any other bilateral series finale. Both teams are world beaters on their day for certain but only one that holds nerves and grills through will come out victorious. The series has already built up some personal mini-battles with Virat Kohli vs Adam Zampa being the eye-catching one among others. Those mini-battles will be at play again when India vs Australia 3rd ODI gets going at Bengaluru. India Vs Australia, Cricket Score 3rd ODI Match.
The 10-wicket humiliation at Wankhede left a lot to be desired from an Indian team the fans had habituated to seeing winning – especially at home. And back on a batting-friendly pitch at Rajkot, India were back to their best again. The batsmen were able to score freely and Rohit found his timing again but the most impressive of all was KL Rahul, who coming in at 5 – after playing the previous two series as an opener and batting at 3 in the last ODI – gave India a perfect finish to Shikhar Dhawan's start. Rohit Sharma Should Be Fit Enough to Play Final ODI Against Australia in Bengaluru, Says Virat Kohli.
Dhawan missed his 8th ODI century by 4 runs but Virat Kohli and Rahul's knocks took India close to the 350-run mark. Manish Pandey's one-handed stunner then gave Australia the first blow breaking their match-winning opening stand from the 1st ODI. Steve Smith anchored the innings and Marnus Labuschagne gave a good account on his debut ODI innings. But Kuldeep Yadav's double-wicket over followed by a series of yorkers from the pacers handed India a 36-run win. Meanwhile, take a look at some of the mini-battles to watch out for in the 3rd ODI match.
Virat Kohli vs Adam Zampa
For a change, the world's best no 3 – Virat Kohli – was batting at 3 again for India after the shocker in the 1st game. Kohli looked his old self back at his favourite position. He pulled, drove, lofted and smashed but Zampa dismissed him again. The leg-spinner becoming the first-ever spinner to dismiss Kohli 5 times in ODI matches. 2 of those 5 dismissals have come in the opening two matches and fans will be eager to watch this mini-battle at Bengaluru.
Kohli though was on top for most occasions and hit two sweet boundaries towards the square boundaries off the young Aussie leggie and Zampa was also helped by the brilliance of Ashton Agar and Mitchell Starc for his wicket. Bengaluru is certain to offer more on this battle.
Aaron Finch vs Jasprit Bumrah
In the 8 successive ODI matches that India and Australia played between January and March in 2019, Aaron Finch was constantly troubled by the moving ball. To be more precise the delivery that would pitch on the off and swing into him. Bhuvneshwar Kumar dismissed Finch 4 times in those 8 games through the same delivery – the nipping inside delivery finding the big gap between Finch's bat and pad.
The Australian skipper, however, then made changes to his batting stance and the problem disappeared. The strides were smaller, the bat straight and Finch was on song again. But Bumrah may have just rediscovered that issue again. Finch was troubled at least 4 times by the incoming delivery against Bumrah at Rajkot and that brought back his confusion over the delivery that would move away.
KL Rahul vs Mitchell Starc
With the devastating yorker in his arsenal, Mitchell Starc has the ability to trouble every batsman in the cricketing universe. His outswingers have always troubled the opposition's openers and Rohit Sharma could explain that well. But both Sharma and Shikhar Dhawan are battling injuries and one might miss out. That leaves us with KL Rahul.
If Rahul opens – in Rohit or Dhawan's absence – then Starc's outswingers will worry him. If Rahul comes at 5, Starc needs to worry. The talented right-hander smashed Starc all over the park in the 2nd ODI with the experienced Australian missing his yorker marks and getting thrown over the boundary ropes. But one yorker would be enough to uproot Rahul's stumps and Bengaluru will tell us how often can Starc bring that out.
Both teams will remember Australia's 3-2 ODI series victor from 0-2 down last year for different reasons and will use that memory to inspire themselves in different ways too. Australia, post the 2019 Cricket World Cup and after a dominating home summer, are playing their first ODI series and would want to win it. India are hoping to continue their superior home run with another series win.