Very rarely does MS Dhoni grab headlines for the wrong reasons. This time, MS Dhoni has been in the headlines that he wore during India vs South Africa, CWC 2019 tie. The gloves had the Balidaan Badge which is an insignia of the paramilitary forces. The ICC, however, has objected to the same and asked the former wicket-keeper to get rid of the gloves. The matter became subject of debate but MS Dhoni as there are various opinions flying around. But MS Dhoni looked completely unfazed with the controversy. India vs Australia Cricket Score 14th ODI Match.
Ahead of India vs Australia, MS Dhoni hit the nets and looked extremely calm. The former Indian cricketer instead was quite focused and looked unruffled with the controversy. The pictures of the nets surfaced on the Internet and were further shared by various social media fans pages. Check out the snaps below: Rohit Sharma Opens up About MS Dhoni's 'Balidaan Badge' on Glove Ahead of IND vs AUS, CWC 2019.
Here's another snap shared by the BCCI.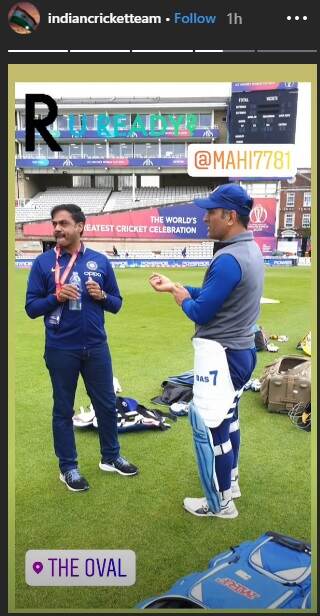 Check out the video below:
A while ago, ahead of the game, Rohit Sharma spoke up about the issue during the press conference. "I have no idea about it [controversy] at all. I am not the captain. I don't know what is happening with that and have nothing to say about it. Let's see what happens tomorrow," Sharma was quoted as saying.