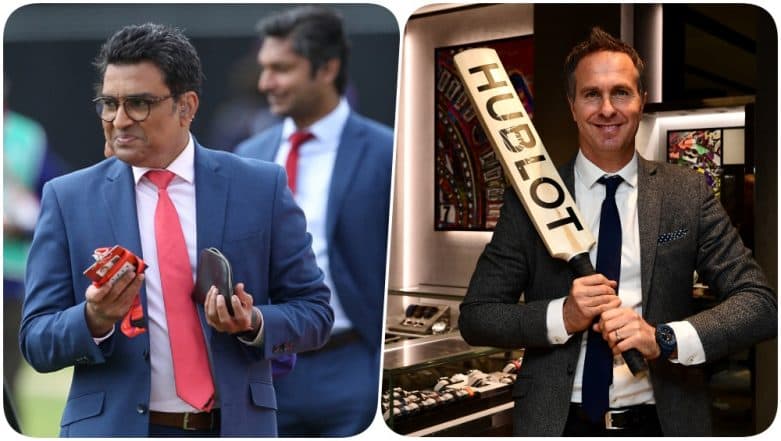 Sanjay Manjrekar and Michael Vaughan had an ugly spat on Twitter after the former Indian player commented on Ravindra Jadeja and called him a bit and pieces player. Despite this, Manjrekar included in the probable for India vs New Zealand team. Michael Vaughan one again took a jibe and reminded him that Jadeja was a bit and pieces player to include Jadeja in the semis. Now, needless to say, the Indian commentator was quite annoyed by constant jibes and went on to block him. Michael Vaughan Trolls Sanjay Manjrekar for Picking up Sanjay Manjrekar in Playing 11 For Semi-Finals of CWC 2019. 
Ravindra Jadeja was also quite annoyed with the comment of Sanjay Manjrekar and even tweeted to him saying that he deserves more respect. This move was hailed by netizens and Jadeja's IPL franchise Chennai Super Kings also joined the bandwagon. CSK took a sly jibe at the former cricketer and said mentioned how they love the all-rounder. Vaughan post this took to social media to let the netizens know about Manjrekar blocking him.
BREAKING NEWS .. I have been blocked by @sanjaymanjrekar .. !!! #CWC19

— Michael Vaughan (@MichaelVaughan) July 9, 2019
Here are a few hilarious reactions from netizens.
You hav been bitten nd pieced by Sanju 🤣🤣

— VK (@Chainakya) July 9, 2019
Another one.
— Rushank (@rushanksoni19) July 9, 2019
A hilarious meme.
— निशाचर (@nishacharr) July 9, 2019
Last one.
Sanju manju rn pic.twitter.com/5GaA1tNr14

— Mikku🐼 (@effucktivehumor) July 9, 2019
Sanjay Manjrekar had said, that Jadeja is a good Test player but he would never include him in the ODIs. "I am not a big fan of bits and pieces players which Jadeja is at this point of his career in 50-over cricket. In Test matches, he is a pure bowler. But in 50-over cricket, I would rather have a batsman and a spinner," Manjrekar had said. Ravindra Jadeja even in the semi-finals of the CWC 2019 snapped one wicket and bowled at an economy of 3.40.