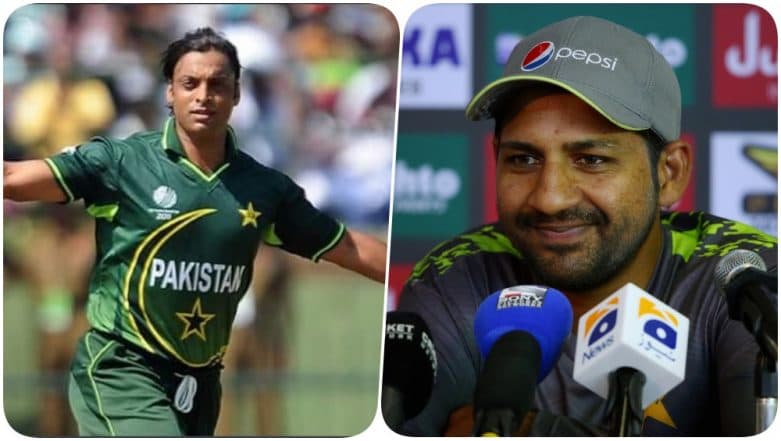 Yesterday, Pakistan Cricket Team's captain Sarfraz Ahmed made a racist comment to South Africa's Andile Phehlukwayo during the second ODI against South Africa at Kingsmead, Durban. The words of the skipper were caught on the stump mic and the incident happened during the 37th over where the hosts were cruising to victory. Sarfaraz was heard saying, Abey kaale, teri ammi aaj kahaan baitheen hain? Kya parwa ke aaye hai aaj?". (Hey black guy, where's your mother sitting today? What [prayer] have you got her to say for you today?). This invited a severe backlash to the Pakistani captain on social media. Now, even Shoaib Akhtar has slammed Sarfaraz and has asked him to apologise for the same. However, the post was then deleted by the former pacer. Did Sarfraz Ahmed Make a Racial Remark? PAK Captain Calls South African Pacer Andile Phehlukwayo 'Abey Kaale' in 2nd ODI, 2019: Watch Video.
In a video, Shoaib Akhtar has said that he being a Pakistani has condemned the action and this surely happened in the spur of the moment. Although he also said that he does not know of the incident fully but, of what he has seen or heard, it was completely wrong of the Pakistani captain to hurl a racial slur against Andile Phehlukwayo. He also went on to say that the Pakistani captain should be suspended for the act. Read South Africa vs Pakistan, 2nd ODI 2019 Match Highlights.
Here's the video which was deleted later by Shoaib Malik slamming Sarfraz.
Check out the video of Sarfraz making a racial comment.
Listening to the words caught on the stump mic, commentator Mike Haysman asked Raja, "What's he saying there Ramiz?" But the Pakistani commentator instead of condemning the act didn't even bother to translate it and said, "Difficult really to translate that. It's a big long sentence." Now, the ball lies in the ICC's court and it would be interesting to see if the cricketing body takes an action on the same.