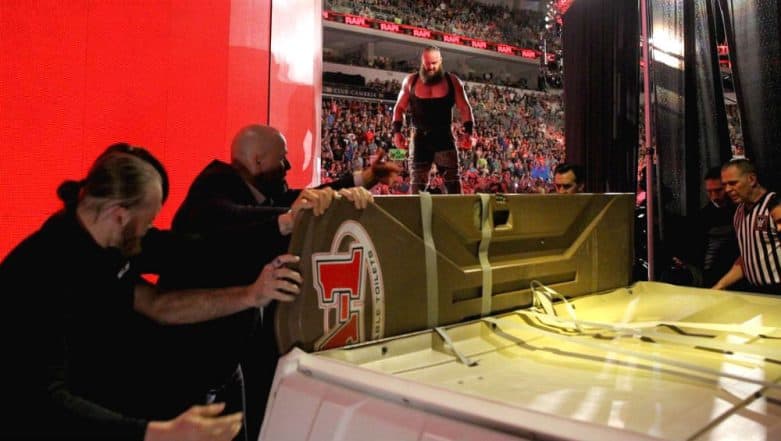 Extreme Rules 2018 will kick-off in less than 48 hours and the excitement levels amongst the fans is sky-high. One of the World Wrestling Entertainment's (WWE) most looked-for pay-per-views (PPVs) in the year, Extreme Rules is much loved for the fancy stipulation matches that take place during the event. Quite a few intriguing storylines are going into the PPV and many essential matches lined-up this year! You can read the full match card and details of the matches that are going to be held at Extreme Rules, on Sunday.
One of the significant matches going to be held in the night will be between AJ Styles and Rusev. A typical heel, Rusev, has found extensive support from the crowd in recent times. His fan base has increased so much so that there are duelling chants during his storyline with AJ Styles. This is for the first time that the Bulgarian wrestler is in WWE Championship title pictures. Will Rusev Day finally dawn at WWE?
Another match in the night fans would be looking forward to will be between Braun Strowman and Kevin Owens. The contest is a singles match with no championship belt in the picture and still has managed to grabbed attention going into the PPV. Add to it the flavour of Extreme Rules; the match will take place in the steel cage. Will the 'Monster Amongst Men' prevail over Kevin Owens?
There will be several other matches that would be an enjoyable watch. Bobby Lashley vs Roman Reigns, Jeff Hardy vs Shinsuke Nakamura, and Alexa Bliss vs Nia Jax are some of the other matches in the night the WWE Universe would be waiting for!
List of All Matches Scheduled to Take Place at WWE Extreme Rules 2018:
| | | | |
| --- | --- | --- | --- |
| Sr. No. | Matches | Stipulations | Brand |
| 1. | Alexa Bliss (c) vs. Nia Jax | Extreme Rules Match – RAW Women's Championship | Monday Night RAW |
| 2. | AJ Styles (c) vs. Rusev | WWE Championship Singles Match | SmackDown LIVE |
| 3. | The Deleter of Worlds (Matt Hardy and Bray Wyatt) (c) vs. The B-Team (Bo Dallas and Curtis Axel) | WWE Raw Tag-Team Championship Match | Monday Night RAW |
| 4. | Carmella (c) vs. Asuka | WWE SmackDown Women's Championship Match – James Ellsworth To Be In A Shark Cage Above The Ring | SmackDown LIVE |
| 5. | The Bludgeon Brothers (Luke Harper and Eric Rowan) (c) vs. Team Hell No (Daniel Bryan and Kane) | WWE SmackDown Tag Team Championship Tag-Team Match | SmackDown LIVE |
| 6. | Dolph Ziggler (c) (with Drew McIntyre) vs. Seth Rollins | WWE Intercontinental Championship – 30-min Iron Man Match | Monday Night RAW |
| 7. | Roman Reigns vs. Bobby Lashley | Singles Match | Monday Night RAW |
| 8. | Jeff Hardy (c) vs. Shinsuke Nakamura | WWE United States Championship Singles Match | SmackDown LIVE |
| 9. | Finn Bálor vs. Baron Corbin | Singles Match | Monday Night RAW |
| 10. | Braun Strowman vs. Kevin Owens | Steel Cage Match | Monday Night RAW |
| 11. | The New Day (Kofi Kingston, Big E and Xavier Woods) vs. Sanity (Eric Young, Alexander Wolfe and Killian Dain) | Tables Match | SmackDown LIVE |
Gone are the days when wrestlers competed in 60-min Iron Man match. Shawn Michaels vs Triple H and John Cena vs Randy Orton are some of the events which are etched in every WWE fan's eyes. At Extreme Rules 2018, it will be WWE Intercontinental Champion Dolph Ziggler pitted against Seth Rollins in a 30-min Iron Man match, with Drew McIntyre at the ringside. Which WWE wrestler comes out on top will be an intriguing watch!
Extreme Rules 2018 have a lot of exciting matches scheduled in the event, not to forget Team Hell No reuniting after five years, and vying for Tag-team championship, on the show. The Extreme Rules PPV will take place at PPG Paints Arena in Pittsburgh on July 15, i.e. Sunday. In India, the show will see a start time in the early morning hours of Monday.