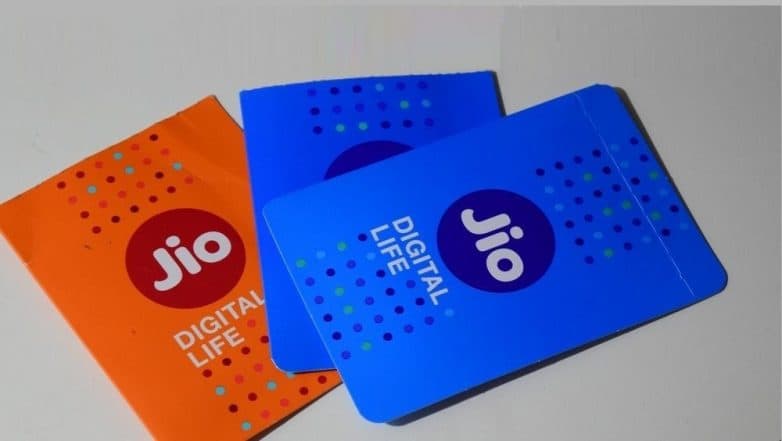 New Delhi, April 23: Reliance Jio GigaFiber, yet to be available commercially, is likely to offer a combo of broadband, landline and TV services at a monthly charge of Rs 600, according to a report. Reliance Jio GigaFiber also offers the option to connect at least 40 devices to its smart home network for up to Rs 1,000. The landline will provide a free unlimited calling facility. TV channels will be aired on the internet.
While the triple combo—which will offer 600 channels with seven-day catch-up option, landline and 100 Mbps broadband—will be priced ₹600 a month, the tariff for adding other smart home services may cost extra and depending on the plan, the tariff could go up to Rs 1,000 a month," a person aware of the development told Mint. The combo is expected to include other services such as gaming, closed-circuit television and smart home systems. Reliance Jio Tops 4G Download Speed Chart With 22.2 Mbps; While Vodafone Leads For Upload Speed of 6 Mbps in March.
Reliance Jio is testing GigaFiber in Mumbai and Delhi. GigaFiber offers 100 gigabytes (GB) of data at 100 megabytes per second (Mbps) for free. The company is only charging Rs 4,500 one-time deposit for a router. When Reliance Jio will commercially roll out the services, telephone and television services will be added. All three services will remain free for about a year, said the report. Jio News App With Over 12 Indian Languages Launched; To Be Available For Android, iOS & Web Users.
"All these offerings will be powered through an ONT (Optical Network Terminal) box router which can connect 40-45 devices such as mobile phones, smart TVs, laptops, tablets and a range of smart devices," the person mentioned above was quoted as saying. Reliance Jio GigaFiber topped the list for highest speed provided by Internet service providers (ISPs) in India, according to a Netflix report published earlier this month.
With a speed of 3.61 Mbps for the month of February, Reliance Jio GigaFiber beat Airtel, Spectranet and 7 Star Digital among others. Ever since its launch in September 2018, Jio GigaFiber has dominated the Netflix "ISP Speed Index" chart with speeds consistently above 3.41 Mbps.