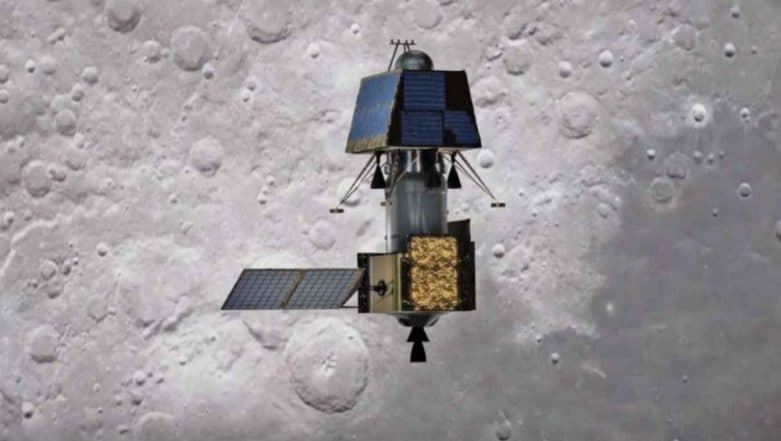 Sriharitkota, September 3:  India's first moon lander- Vikram, got nearer to the Moon after the Indian Space Research Organisation (ISRO) successfully completed the first of the two de-orbital operations on Tuesday. With this, Chandrayaan-2, India's second lunar mission got even more closer to the moon. ISRO on Tuesday informed that the first de-orbiting maneuver for Chandrayaan-2 spacecraft was performed successfully as planned, using the onboard propulsion system. The duration of the maneuver was four seconds. The next de-orbiting maneuver is scheduled on September 04, 2019 between 0330 - 0430 hrs IST. Chandrayaan 2 Explained! When Will ISRO's GSLV-Mk III Reach Moon And What Will Happen After That?
According to details on the ISRO website, the orbit of Vikram Lander is 104 km x 128 km. Chandrayaan-2 Orbiter continues to orbit the Moon in the existing orbit and both the Orbiter and Lander are healthy. 
On Monday, India's first moon lander Vikram was successfully separated from its mother spacecraft 1.15 am.
Soft- Landing of Vikram on Moon's Surface on September 7
The soft landing of the spacecraft on the lunar surface is scheduled for September 7. Giving details about the progress of the ambitious mission, the space agency informed that the soft landing of Chandrayaan-2 Vikram lander on lunar surface is scheduled between 1:30 am to 2:30 am on Saturday, September 07, 2019. This will be followed by the Rover roll out between 5:30 am to 6:30 am. A Press Meet with Chairman, ISRO is also being planned between 8:00 am to 9:00 am.
Chandrayaan 2: Where Is The Spacecraft Now & When It Will Reach The Moon? (Watch Video):
The Chandrayaan-2 spacecraft has three segments -- the Orbiter (weighing 2,379 kg, eight payloads), the lander Vikram (1,471 kg, four payloads) and rover Pragyan (27 kg, two payloads). After the successful landing, Chandrayaan 2 will be the first Indian expedition to carry out a soft landing on the lunar surface. This mission will make India the fourth country after the US, Russia, and China to conduct a soft landing on the moon.