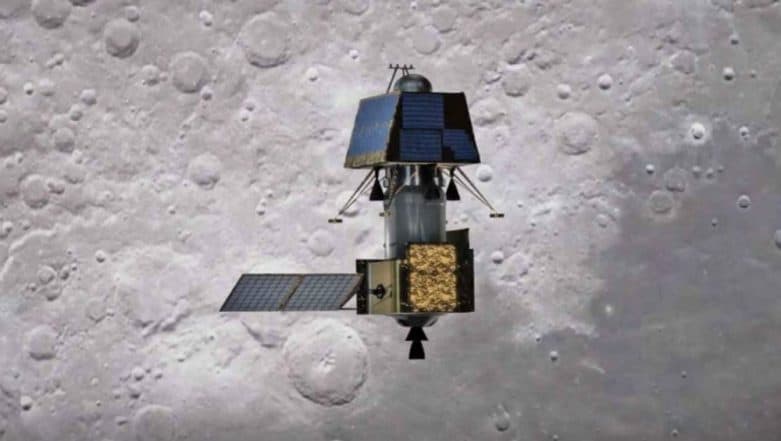 Bengaluru, September 7: Indian Space Research Organisation or ISRO lost communication with Chandrayaan 2 spacecraft when the lander 'Vikram' was 2.1 kilometres away from the Moon surface. The lander 'Vikram' began its final descent on the South Pole of the Moon at 1:38 am on Saturday. The lander was moments away from making a soft-landing on the Moon surface when it stopped sending signals. Reacting to the unfortunate development, Prime Minister Narendra Modi asked ISRO scientists to be courageous.
"There are ups and downs in life. This is not a small achievement. The nation is proud of you. Hope for the best. I congratulate you. You all have done a big service to the nation, science and mankind. I am with you all the way, move forward bravely," PM Modi told scientists at the ISRO Centre in Bengaluru. PM Modi patted ISRO chief Dr K Sivan's back even as scientists were seen tensed as the lander lost communication with the ground station.
"Vikram Lander descent was as planned and normal performance was observed up to an altitude of 2.1 km. Subsequently, communication from Lander to the ground stations was lost. Data is being analyzed," Dr Sivan said. ISRO also called off the planned press conference. Asked if Vikram lander crashed, ISRO scientist Deviprasad Karnik said: "Data is being analysed. We don't have any result yet. It takes time. We are not sure." While the status of Vikram lander remained unknown, Indians flooded Twitter with congratulatory tweets for ISRO scientists' hard work.
Tweets on Chandrayaan 2 Mission:
This is Mission Control Centre. #VikramLander descent was as planned and normal performance was observed up to an altitude of 2.1 km. Subsequently, communication from Lander to the ground stations was lost. Data is being analyzed.#ISRO

— ISRO (@isro) September 6, 2019
India is proud of our scientists! They've given their best and have always made India proud. These are moments to be courageous, and courageous we will be!

Chairman @isro gave updates on Chandrayaan-2. We remain hopeful and will continue working hard on our space programme.

— Narendra Modi (@narendramodi) September 6, 2019
Congratulations to the team at #ISRO for their incredible work on the Chandrayaan 2 Moon Mission. Your passion & dedication is an inspiration to every Indian. Your work is not in vain. It has laid the foundation for many more path breaking & ambitious Indian space missions. 🇮🇳

— Rahul Gandhi (@RahulGandhi) September 6, 2019
ISRO's achievement with getting Chandrayaan-2 so far has made every Indian proud.

India stands with our committed and hard working scientists at @isro.

My best wishes for future endeavours.

— Amit Shah (@AmitShah) September 6, 2019
To,

Everyone at @isro and people behind the #Chandrayaan2 mission

We are not just proud of your achievements, we are inspired too.

Lesson learnt - Wake up, give your best shot, sleep. Repeat the same next day.

Keeping our fingers crossed 🤞🏼🇮🇳 ♥ #Chandrayaan2Live

— The Viral Fever (@TheViralFever) September 6, 2019
I'm sad but proud of @isro for keeping the flag high. To dream big is one step towards achieving it. And #Chandrayaan2 is miles ahead on that path. We will do it again. We shall succeed. Soon.

And I'm proud of our Hon. PM who is encouraging our scientists like a true leader. pic.twitter.com/U9e7piQtVj

— Nikhil Srivastava (@snikhil_social) September 6, 2019
The saddest Pic..

It hurts the most ..

Thank you @isro for everything...

We'll create history soon .... pic.twitter.com/vMxD4mgEpO

— Jai Upadhyay (@jaiupadhyay17) September 6, 2019
The heavy-lift rocket GSLV MkIII-M1, nicknamed 'Baahubali' successfully put Chandrayaan 2 spacecraft into Earth's orbit on July 22. The spacecraft was initially scheduled to be launched on July 15. However, the flight was postponed after a technical snag was detected an hour before the rocket lift-off. The issue was later rectified by the ISRO. Chandrayaan 2 entered Moon's orbit on August 2.
Ahead of the Moon landing, a series of orbit manoeuvres were performed on Chandrayaan 2 to lower the altitude of the spacecraft.  Chandrayaan 2 spacecraft left Earth's orbit and successfully entered the Lunar Transfer Trajectory (LTT) on August 14.
Chandrayaan 2 '15 Minutes Of Terror': All You Need To Know About India's Moon Mission
Ahead of the expected landing, PM Modi said that he was excited to witness "special moments". In a series of tweets, PM Narendra Modi said the success of Chandrayaan 2 will benefit crores of Indians. "I have been regularly and enthusiastically tracking all updates relating to Chandrayaan - 2 since it was launched on 22nd July 2019. This Mission manifests the best of Indian talent and spirit of tenacity. Its success will benefit crores of Indians," he said in a tweet on Friday.
India launched its maiden moon mission Chandrayaan 1 on October 22, 2008. The mission performed high-resolution remote sensing of the Moon in visible, near-infrared (NIR), low energy X-rays and high-energy X-ray regions.