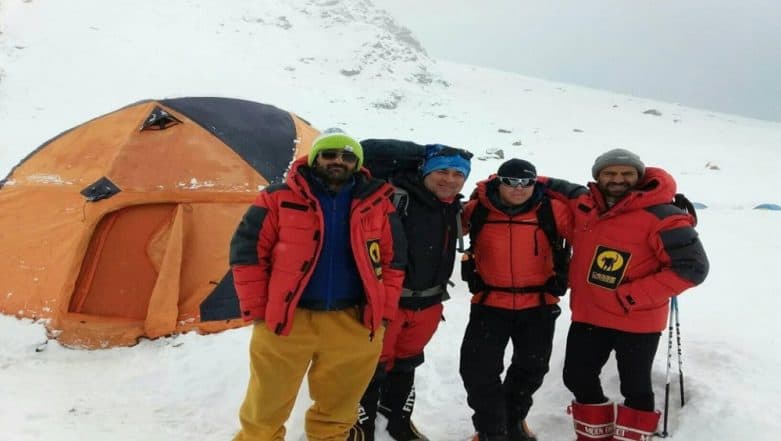 Britsh climber Tom Ballard and his Italian partner Daniele Nardi were reported missing while scaling the Nanga Parbat mountain in Pakistan's Baluchistan region. The two climbers have lost contact with Mr Nardi's team and a week later there is no update. Tom Ballard happens to be the son of Alsion Hargreaves, who climbed the Mt Everest solo in 1995 without any use of gear. Tom Ballard too picked up the passion of mountain climbing and has several feats to his name. Now while a new search party is being flown in to search for them, Ballard's girlfriend is hopeless about them ever returning. Tom Ballard, Son of First Female Everest Climber Goes Missing While Scaling 'Nanga Parbat', The Killer Mountain in Pakistan.
There were political tensions between India and Pakistan last week which restricted the flying space. Later the weather too wasn't conducive to send search for them. Now Pakistani helicopters will be assisted by Basque climber Alex Txikon and his team from K2, to look for the two missing climbers. Two high-altitude drones will be used over the area where they were last seen and contacted by Mr Nardi's team. Meanwhile, Stefania Pederiva. Ballard's girlfriend is inconsolable over the news. She was quoted to Daily Mail, "It's pointless. No hope any more. It is hopeless." Famous 'Bikini Hiker' Gigi Wu Freezes to Death on Her Solo Hike in Taiwan.
Italian ambassador to Pakistan, Stefano Pontecorvo said the new search party will be a 'big step forward' and added it would be a miracle to find them. There was a sense of fear expressed from the time they went missing. Because Ballard's mother Alison Hargreaves was also lost her life while she was descending from K2. Hopefully, the history should not repeat itself for these reputed set of climbers.