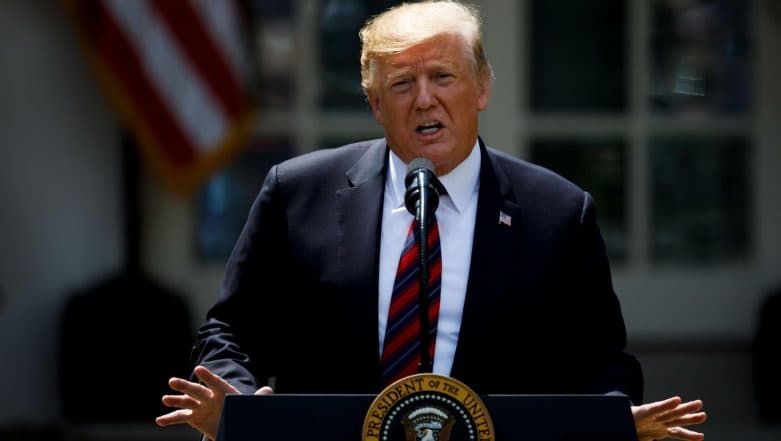 Washington, June 20: US President Donald Trump said Iran "made a very big mistake" after Tehran said it shot down an "intruding" US spy drone. "Iran made a very big mistake!" Donald Trump tweeted on Thursday without elaborating. Earlier in the day, Iran's Islamic Revolutionary Guards Corps (IRGC) said that it shot down an "intruding" US spy drone flying over the Strait of Hormuz.
IRGC commander-in-chief Major General Hossein Salami warned the US that it needed to respect Iran's territorial integrity and national security, adding: "Iran is not seeking war with any country, but we are fully prepared to defend the country." While IRGC said the US' "RQ-4 Global Hawk" violated Iran's airspace, the US military said it had been over international waters. US, Iran Not Ready For Deal: Trump.
"No US aircraft were operating in Iranian airspace today," said Navy Captain Bill Urban, a spokesman for the American military's Central Command. According to Northrop Grumman, the maker of RQ-4 Global Hawk, the drone can fly at high altitudes for more than 30 hours, gathering near real-time, high-resolution imagery of large areas of land in all types of weather.
Donald Trump's tweet on Iran:
Iran made a very big mistake!

— Donald J. Trump (@realDonaldTrump) June 20, 2019
Tensions between Washington and Tehran have escalated over the past months. On Monday, the US Defence Department said it was deploying 1,000 extra troops to the region in response to "hostile behaviour" by Iranian forces. Washington has also accused Tehran of attacking two oil tankers with mines last week just outside the Strait of Hormuz in the Gulf of Oman, the allegation rejected by Tehran.
Tensions were further fuelled on Monday when Iran announced its stockpile of low-enriched uranium would next week exceed the limits it agreed to with world powers under the landmark nuclear deal in 2015. Iran stepped up its production in response to tightening economic sanctions from the US, which unilaterally withdrew from the deal last year. (With IANS inputs)