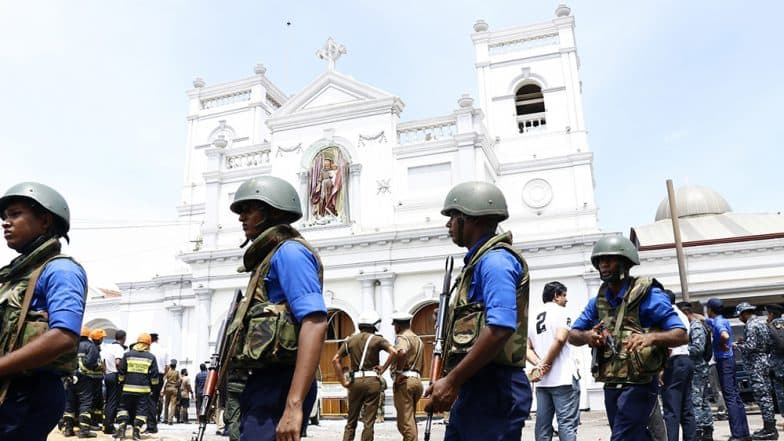 Colombo, April 25: The usage of all drones and unmanned aircraft within the Sri Lankan airspace has been suspended with effect from Thursday, April 25,  until further notice, the Civil Aviation Authority (CAA) informed. The decision has been taken in the wake of the the security situation in the island nation after eight bomb blasts ripped through churches and hotels, mostly in the capital Colombo, killing 359 people.
On Thursday, a minor explosion was reported in Pugoda on the outskirts of the Sri Lankan capital Colombo. Police informed that there were no casualties or damages in the fresh blast that came four days after the Easter Sunday bombings. Sri Lanka Blasts: Death Toll Jumps to 359, Sri Lankan President Announces Reshuffle of Intelligence and Security Forces. 
In the Easter Sunday bombings, hundreds of others were also injured in what is being called as the bloodiest day in Sri Lanka since the end of the civil war a decade ago. On Sunday, Sri Lanka was hit by eight coordinated bomb blasts across the nation. The attacks began with six coordinated bombings at 8.45 a.m. on Sunday at three luxury hotels in Colombo and three churches around the country during Easter services. Sri Lanka Blasts: Names Of Churches And Hotels That Were Attacked On Easter Sunday.
The attack is being believed to be the bloodiest day in Sri Lanka since the end of the civil war a decade ago. The first of the eight blasts took place on Sunday morning in three luxury hotels-Cinnamon Grand, Shangri-la, Kingsbury- in the heart of Colombo and in a church each in Colombo, Negombo and in the Tamil-majority Batticaloa town.
The Sri Lankan government has blamed a local Muslim outfit, National Thowheed Jamath (NTJ), for the deadly bombings. According to reports, 58 suspects have been arrested from different areas of the island, Police Spokesperson Ruwan Gunasekara informed on Wednesday. The Islamic State (IS) terror group on Tuesday claimed responsibility for the attacks.