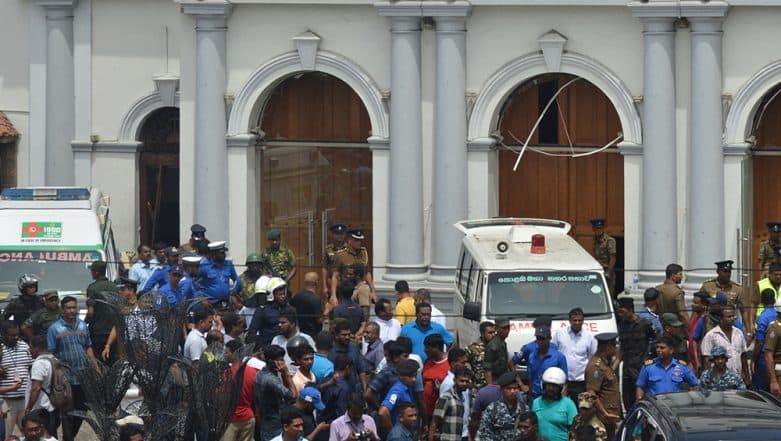 Colombo, April 21: At least 160 people, including 35 foreigners, have been killed and over 400 people have been injured after eight explosions rocked several churches and luxury hotels in Sri Lanka on Easter Sunday. Out of the eight blasts, three were reported from Churches in Colombo, the other four blasts were reported from luxury hotels. The recent one was reported from Dematagoda suburb in the Sri Lankan capital. According to reports, two people were killed in the latest explosion that took place at Tropical Inn Hotel in Dehiwala.
The seven places that have been hit by the explosion are- Kochikade Church, Katuwapitiya Church, Zion Church in Batticaloa,  Shangri La Hotel, Cinnamon Grand Hotel and Kingsbury Hotel and a place in Dehiwala. The Minister Of Education in Sri Lanka, Akila Viraj Kariyawasam, has informed that all schools in the island will be closed tomorrow, April 22 and April 23. Meanwhile, a curfew has been declared across the country from 6 pm on Sunday till 6 am on Monday, April 22. Access to social media WhatsApp, Viber and Facebook have also been blocked. Serial Blasts In Sri Lanka on Easter Sunday, Churches And Hotels Hit; Nearly 156 Dead.
The first explosions were reported at the premises of St. Anthony's Church in Kochchikade at around 8.45 am on Sunday while people gathered in the church to offer prayers on Easter. Reports inform that Christians form around 7 per cent of the population in Sri Lanka, with the Buddhists accounting for around 70 per cent, followed by Hindus and Muslims. Catch LIVE Updates on Sri Lanka Serial Blasts on Easter Sunday.
The horrific carnage took place when Christians in Sri Lanka were offering prayers and celebrating the Easter Sunday. Easter is an important festival marking the resurrection of Jesus Christ and the culmination of week-long festivities. Reports inform that this is bloodiest day since the end of the civil war in the island nation.
Prime Minister Narendra Modi condemned the horrific blasts in Sri Lanka and expressed India's solidarity with people of the neighboring nation. "Strongly condemn the horrific blasts in Sri Lanka. There is no place for such barbarism in our region. India stands in solidarity with the people of Sri Lanka. My thoughts are with the bereaved families and prayers with the injured", PM Modi tweeted.
The High Commission of India in Colombo tweeted saying, "Indian citizens in need of assistance or help and for seeking clarification may call the following numbers: +94777903082 +94112422788 +94112422789. In addition to the numbers given below, Indian citizens in need of assistance or help and for seeking clarification may also call the following numbers +94777902082 +94772234176."
Helpline numbers has been issued for Indians to get in touch with their families and relatives in the neighboring nation. Meanwhile, External Affairs Minister of Sushma Swaraj said she was in touch with authorities in Sri Lanka and is keeping a close watch on the situation.