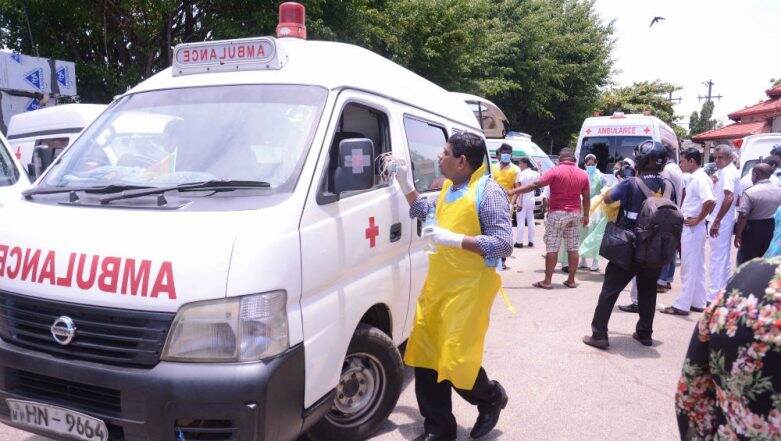 Colombo, April 24: The death toll in the Easter Sunday suicide bombings touched 359 which includes 39 foreigners, Sri Lankan authorities said on Wednesday. A total of 58 suspects have been arrested from different areas of the island so far, Sri Lanka's Def Min, Ruwan Wijewardene said. On Sunday, a total of eight explosions ripped through the island nation. Six blasts rocked the country in the morning while two were reported in the afternoon, following which a curfew was imposed. Sri Lanka Blasts: Names Of Churches And Hotels That Were Attacked On Easter Sunday. 
The Islamic State terror group (IS) on Tuesday claimed responsibility for the Easter Sunday carnage in Sri Lanka. However, experts believe the little-known local Islamist group, the National Thowheed Jamath (NTJ) may also be behind the attack. According to a report by IANS, Health Minister Rajitha Senaratne on Monday said NTJ was involved in terror attacks. "It is a local organisation. We don't know whether they are linked to outsiders. All those arrested are locals," he told the media. Serial Blasts In Sri Lanka on Easter Sunday, Churches And Hotels Hit; Nearly 190 Dead.
Here's the tweet:
Sri Lanka's Defence Minister, Ruwan Wijewardene on #SriLankaBombings : The death toll has risen to 359, of which 39 are foreign nationals. 17 bodies have been identified of the foreigners & have been released to their families. Investigation is still being conducted. pic.twitter.com/XFPqSx2yHf

— ANI (@ANI) April 24, 2019
The mayhem started at 8.45 a.m. to coincide with the start of the deadly attacks on Easter worshipers at churches and guests at hotels in three Sri Lankan cities. At least 40 foreign nationals and eight Indians were among those killed, the country's Foreign Ministry said. People From All Religions Display Solidarity by Gathering in Huge Numbers to Donate Blood For Terror Attack Victims (View Pics). 
On Tuesday, Sri Lanka's President Maithripala Sirisena said that he would move quickly to restructure country's intelligence and security apparatus in response to a failure to act on warnings received ahead of the attacks in the nation. "I will completely restructure the police and security forces in the coming weeks. I expect to change the heads of defence establishments within next 24 hours," Sirisena said in a televised speech, the Efe news reported.