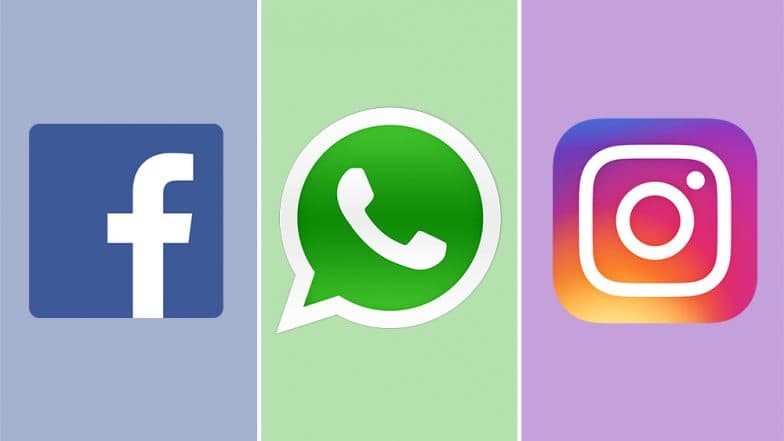 New Delhi, March 13: Facebook, Instagram and WhatsApp users across the globe and especially in Europe and US complained that they could not access their accounts giving rise to speculations of  massive outage of the popular social media platforms. Users took to Twitter to vent their frustration about the non-working of Facebook and Instagram. Gmail Down Globally; Google Initiates Investigation as Users Report Problems.
Users from the US and Canada to Chile and Italy reported they couldn't log in or post on their feeds, according to DownDetector.
A Facebook spokesperson confirmed that some people are "currently having trouble accessing the Facebook family of apps".
Read the Tweets Below:
Instagram and Facebook users coming to check Twitter like

#facebookdown pic.twitter.com/DKGhMnBdHx

— LIL G (@LILG96958980) March 13, 2019
Indians also complained of similar issues:
#Facebook down??

Or it's just with me? #Facebook@facebook

— Ritika Sanwal (Pahadan) 🗻 (@infiniteflames2) March 13, 2019
People seemed to be taking a dig at frustrated Facebook users running to Twitter to complain about the outage:
Anytime FB & Instagram go down... let's run to Twitter🤣😳😱 #Facebookdown pic.twitter.com/NW8bKTXfx9

— 🚀❣️ (@mascuIinebottom) March 13, 2019
Some users also shared picture of the Facebook outage:
Is Facebook temporarily down or what Am I seeing? pic.twitter.com/A9GOzFGhA6

— PK Kasirim (@pkasirim) March 13, 2019
Instagram users were not far behind either:
me checking every five minutes to see if instagram is back working #instagram #instagramdown pic.twitter.com/Z27Ir2OiH6

— addi💓 (@ccaraac) March 13, 2019
Earlier in the day, several Google users on Wednesday reported problems with accessing Gmail and other services in large parts of the world. The company said it was investigating the problem.
Many users in Australia, the US, Europe and Asia reported outages with Gmail, Google Maps and Google Drive. In a statement, Google said it was investigating reports of an issue with Gmail. However, Google seemed to have resolved the issue by Wednesday evening.