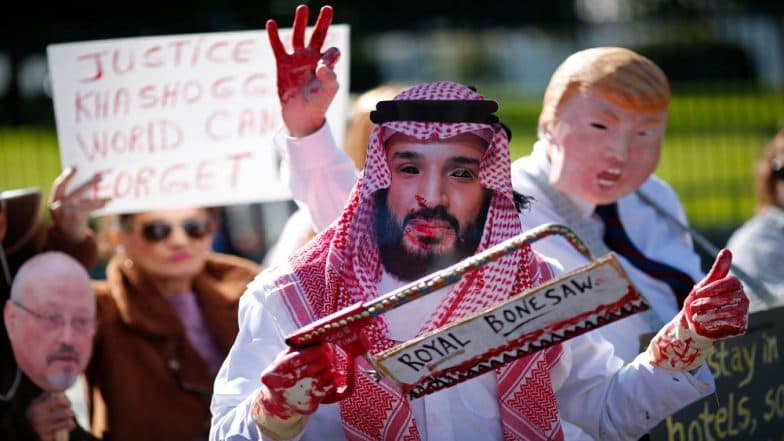 Washington, September 6: In a startling claim, Saudi Crown Prince Mohammed bin Salman told a documentary maker that he bears responsibility for the murder of Jamal Khashoggi, a Washington Post columnist and known-critic of the Saudi Arabia's royal family. Khashoggi was assassinated inside the Saudi consulate in Istanbul on October 2 last year. The documentary, which has recorded Prince Salman's claim, will be aired on October 1 -- a day before the first anniversary of Khashoggi's death.
"It happened under my watch. I get all the responsibility, because it happened under my watch," the Crown Prince told Martin Smith, the journalist featuring in the upcoming PBS documentary. The de-facto ruler of Saudi Arabia, however, added that he was not directly involved in the murder but considers himself responsible as he heads the Saudi Kingdom. Khashoggi Killing Fallout: German Germany Extends Ban on Arms Export to Saudi Arabia Till 2020.
Asked on how he was not aware of the nefarious plan to kill Khashoggi, Prince Salman said the Saudi government has 3 million employees and he cannot personally monitor every member of the workforce. There were ministers tasked with the charge and those found negligent will face action, he was reported as saying by Smith, who interviewed him.
Riyadh had last year drawn massive flak after denying its role in the assassination of Khashoggi. After the late journalist went missing on October 2, the Kingdom officials denied killing him.
But after the investigators in Turkey released in public the CCTV footage showing Khashoggi walking inside the Saudi consulate in Istanbul but not walking out, the Kingdom was forced to admit its role.
The body of Khashoggi was not handed over to the bereaved family. After massive protest outside the consulate in Istanbul, authorities admitted that his body was dismembered, chopped and thrown into one of the wells.
An investigation into the case by the United Nations has indicated the role of top-level decision-makers in Saudi behind the covert operation. The global body has sought permission for its investigators to interrogate Prince Salman and other officials.
The Kingdom, which has denied permission for the UN team to conduct a probe on its soil, is carrying out its own investigation into the case. Reports claim that action has been taken against 12 officials in what has mostly been a secretive hearing. Details of the action taken against them, along with the court proceedings, remain ambiguous.