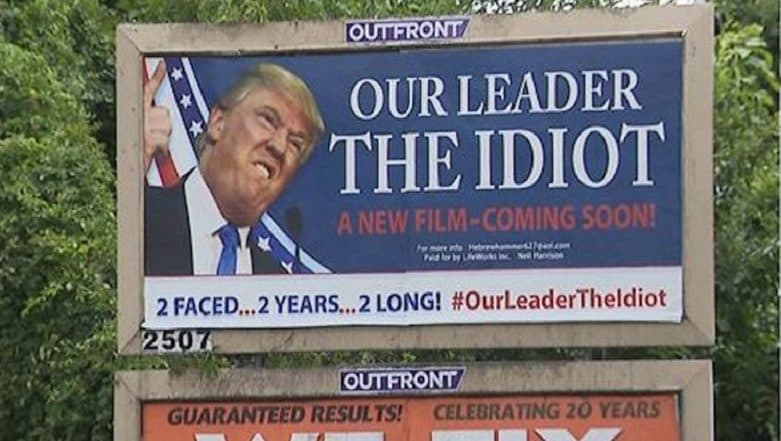 New Jersey, Aug 29: A controversial billboard put up in New Jersey, twenty miles away from New York, has sparked a local outrage. The poster takes an "offensive" jibe against United States President Donald Trump, referring to him as "Our Leader The Idiot".
The billboard further adds: "A new film coming soon", along with a footer which reads as follows, "2 Faced...2 Years...2 Long (sic)". Thousands of enraged residents have petitioned the Union Township, New Jersey -- the municipal body -- to take down the poster at the earliest.
Union Twp. Public Information Officer Natalie Pineiro issued a statement claiming that the municipal officials are not authorised to take down the billboard as it neither owns it nor reserves the right to censor the content.
Anti-Trump billboard erected in New Jersey: "Our leader the idiot" https://t.co/gaZpA3x1wx pic.twitter.com/Yr9SVhxBrd

— The Hill (@thehill) August 23, 2018
The agency which rented the space for the billboard has been identified as OurFront Media. It is yet to issue a statement on the controversy which has erupted.
Political activist from Bronx, Neil Harrison said he had paid the agency $1,000 to put the banner in New Jersey as political hoardings are banned in New York City. Justifying his act, Harrison claimed that Trump would soon be "exposed" as the admissions made by his erstwhile counsel Michael Cohen will lead to his "impeachment".