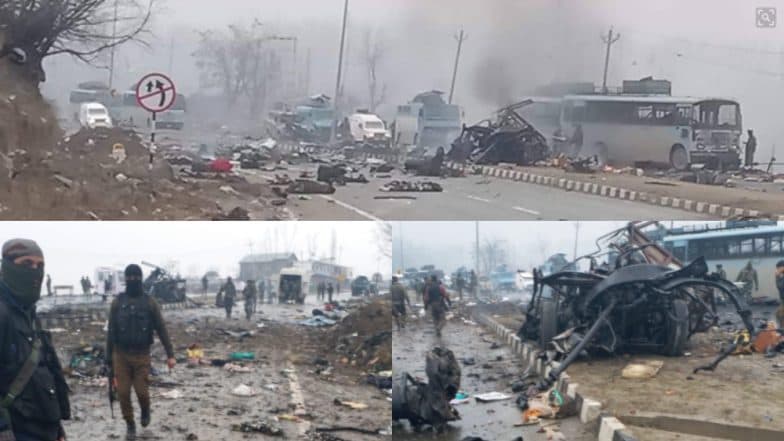 Toronto, February 15: Atleast 44 CRPF soldiers are dead in what is one of the deadliest terror attack since militancy began in the Indian state of Jammu & Kashmir. The attack claimed by Pakistan based Jaish-e-Mohammad used a car-laden with 350 kilograms of explosives and a suicide bomber at the wheel to drive head-long onto an oncoming bus carrying the soldiers.
The resulting blast was so powerful that what remains from the bus is only a mangled metal skeleton. Initial reports describe the blast scene as bloody with body parts of the soldiers flown across roads and the blast sound heard 10 kms away.
The terrorists accompanying the suicide bomber reportedly then fired at the other convoys to try and cause maximum damage.
The scale of the blast suggests that the car was packed full of explosives. It is also reminiscent of the multiple car bombs that have been deployed by the Taliban in Afghanistan to target high-profile places such as government buildings.
The strategy of using a car bomb as an Imrovised Explosive Device (IED) ensures damage at various levels while giving terrorists crucial minutes to ensure as many casualties as they can. Ramming a car into a target distracts attention of guards or other security personnel in the area. The vehicle causes damage on its own if driven at a high-speed. Think the terror attack in Nice (2016), New York - Times Square (2017) and the Barcelona attack (2017).
Using a car also allows terrorists to fill-up the car with a bigger quantity of explosive material. It then allows them to transport these explosives from one place to the other in a convenient manner.
A car full of explosives and a full fuel tank causes a much bigger explosion and consequently more damage. The resulting blast allows accompanying terrorists to breach a perimeter or target others who have been distracted due to the explosion.
Afghanistan's recent war with Taliban is littered with multiple instances of suicide car bombers targeting crowded places, or government buildings to ensure maximum casualty. It seems that the JeM has replayed this method in J&K. This could be the start of a dangerous tactic being deployed by Pakistan-backed terror groups in Kashmir.