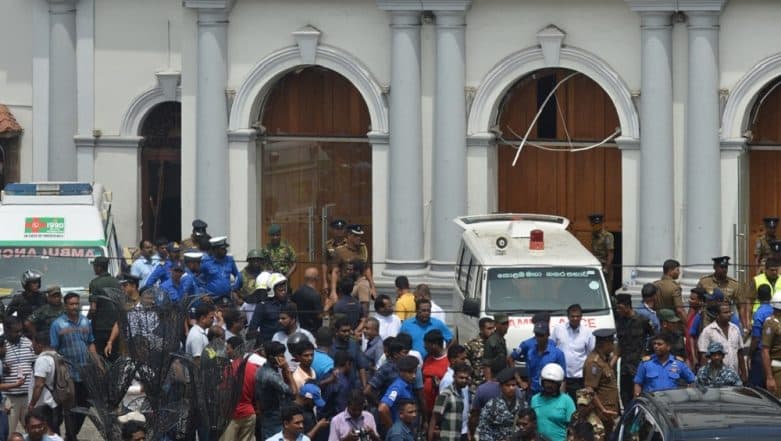 Colombo, May 4: Nearly two weeks after a series of eight coordinated attacks ripped through churches and luxury hotels in Sri Lanka, the Army chief of the island nation stated that some suspected terrorists who carried out the serial blasts had visited Kashmir and Kerala in India to seek training. According to a report by Hindustan Times, Sri Lankan Army Chief Lieutenant General Mahesh Senanayke stated that few involved in the the April 21 bombings had travelled to regions such as Kashmir and Kerala in India to possibly be part of terrorism training activities.
This is the first confirmation by a senior security official from Sri Lanka on the terror activities that shook the island nation in April. "They had gone to India, travelling to Bangalore, Kashmir and Kerala state, as per information available with us," Senanayke was quoted in the report. Sri Lanka Blasts: Names Of Churches And Hotels That Were Attacked On Easter Sunday.
However, in India, the National Investigation Agency (NIA) had carried out raids in several parts of Tamil Nadu and Kerala. The agency picked up several people for suspected links to the Islamic State, the terror group that claimed responsibility for the attack. According to a report by PTI, the Sri Lankan authorities are taking steps to freeze the assets of terrorists involved in the Easter Sunday bomb blasts. Sri Lanka Blasts: Death Toll Jumps to 359.
Reports inform that the details of the attackers and their relatives linked to the bombings was released by the police on May 1. Police identified Mohamed Cassim Mohamed Zahran also known as Zahran Hashmi to have led the team of suicide bombers. Hashmi, the leader of ISIS linked local outfit National Thowheeth Jamath (NTJ), blew himself up in the posh Shangri-La hotel. He came from the Muslim majority area in Kathankudi in the eastern province.
Hashmi's brother Mohamed Nazar Mohamed Azath was the suicide bomber at the Zion church in Batticaloa while his other brother Achchi Mohamed Mohamed Hasthun was the bomber at the St Sebastian's Church at Katuwapitiya, Negombo.
A total of 106 suspects, including a Tamil medium teacher and a school principal, have been arrested in connection with the Easter Sunday blasts in Sri Lanka. Reports inform that nine suicide bombers carried out the series of devastating blasts that tore through three churches and three luxury hotels, killing 253 people and injuring 500 others.