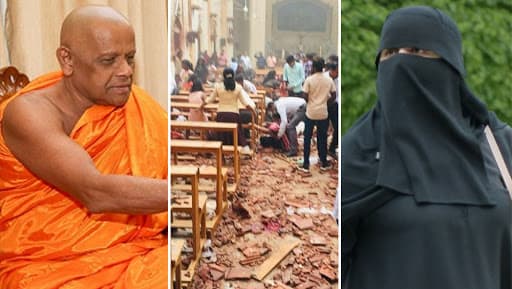 Colombo, June 23: A week after the Buddhist monk Warakagoda Sri Gnanarathana Thero said that Muslim devotees in Sri Lanka should be stoned to death, an environment of fear has gripped within the minority community in the island nation. Following this, Muslims in Sri Lanka say that they fear they might become the victims if a new communal tension arises here, reports Reuters.
The comments of the top Buddhist monk was made during a speech that was broadcast on national television. He had said, as the global news agency quotes, "Some female devotees said [people like the doctor] should be stoned to death. I do not say that. But that's what should be done." Easter Bombings Probe: NIA Shares Numbers of 5 Sri Lankan ISIS Suspects With Counterparts in Colombo
Not only this, Thero - who heads the Asgiriya Chapter, one the largest and oldest Buddhist chapters in Sri Lanka - had opined that Buddhists should call for a boycott of Muslim-owned restaurants, as they allegedly served their Buddhist customers food spiked with sterilisation medication.
Making this tall claims, the Buddhist monk had said - addressing worshippers at a temple in the central district of Kandy, as the global news agency quotes, "Don't eat from those [Muslim] shops. Those who ate from these shops will not have children in future." He even defended his comments and said, "The remarks I made are only in line with what the majority are thinking."
It is to be known that the comments arrived at a time when the country is reeling from the bombings and subsequent riots. Also, Thero had repeatedly accused that Muslim doctors in the central Kurunegala district had covertly sterilised 4,000 Buddhist women. As per top statistics, Buddhists comprise more than 70 percent of Sri Lanka's 21 million population, while Muslims account for 10 percent.