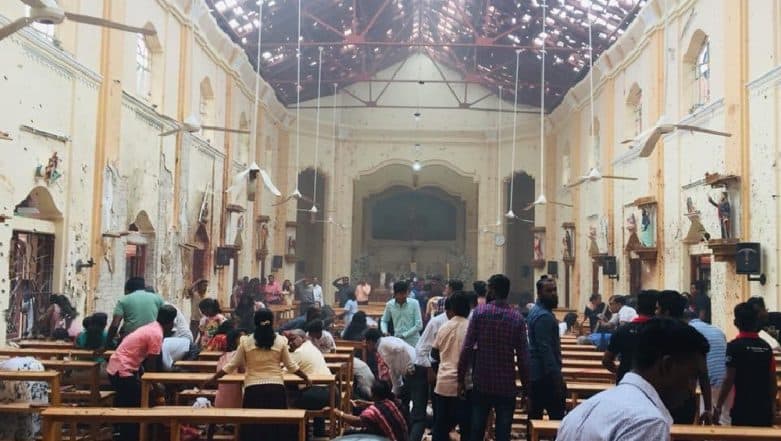 Colombo, April 21: Multiple explosions were reported in Sri Lanka's capital city Colombo during Easter Sunday mass. People had gathered in churches across the country for Easter celebrations on Sunday. According to Sri Lankan media, more than 156 people, including 35 foreigners, have been reported dead and over 400 people have been injured following several explosions in the city. Reports inform that the blast had taken at six places across the island nation, three of which were in churches while the other three were in hotels. Catch LIVE Updates on Sri Lanka Serial Blasts on Easter Sunday.
The hotels that were hit by explosions included five star hotels like Shangri-La Hotel, Cinnamon Grand Hotel and Kingsbury Hotel. In the wake of the incident, Special Task Force (STF) and Army have been deployed in areas that are affected by the explosion. Reports quoting Intelligence states that ISI could be behind the attacks. Helpline Numbers Issued For Indians Seeking Assistance In Colombo And Other Places.
According to tweets by several users on micro-blogging site Twitter, the initial explosions were reported at the premises of St. Anthony's Church in Kochchikade, resulting in injuries. Reports inform that the six places that have been hit by the explosion are- Kochikade Church, Katuwapitiya Church, Shangri La hotel, Cinnamon Grand Hotel, Kingsbury Hotel, and a church in Batticaloa. Names Of Churches And Hotels That Were Attacked On Easter Sunday.
Take a Look at the Tweets:
2 EXPLOSION IN COLOMBO CHURCH #Srilanka #colombo pic.twitter.com/LOLJVlcBko

— Universal KING 😎 (@UniversalKing23) April 21, 2019
According to several reports from Sri Lanka, the blasts took place at churches in Batticaloa, Negombo and Colombo and in hotels in Colombo including the Shangri La and the Kingsbury. On Thursday, local media of Sri Lanka revealed that female de-mining laborers were critically wounded when a landmine suddenly blasted in Muhamalai, Kilinochchi in northern Sri Lanka.